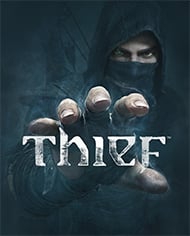 System: PS4, Xbox One, PS3, Xbox 360, PC
Dev: Eidos Montreal
Pub: Square Enix
Release: 2014
Players: 1
Screen Resolution: 480p-1080p
Garrett Returns
by Angelo M. D'Argenio
Thief was one of the original stealth games, a classic that PC gamers still swear by. However, now the game is coming back, courtesy of Square Enix and Eidos Montreal. It's a modern-day reboot with modern-day graphics and modern-day mechanics for a modern-day gaming industry. Yes, this means that our cherished Thief is coming to consoles and not just PCs. That's one point against the reboot right there in the eyes of the PC-gaming master race. But what about the game itself? Does it do the original Thief justice? E3 2013 gave us a chance to check out the game for ourselves in order to find out.
Garret returns as our protagonist and thief extraordinaire, and pilfering the treasures of the world remains his chosen career path. The E3 demo had Garret attempting to infiltrate a heavily guarded fort in order to steal an important artifact. However, the way you infiltrate the fort is pretty much up to you. You can hop over walls, slink down alleyways, or even pull off some Assassin's Creed-style Parkour. Heck, if you really want to, you can simply knock on the front door and try to kill everyone. If you somehow manage to pull it off, great! However, Garret isn't exactly the most beefy of game protagonists out there. While he might be able to get out of a 1v1 scuffle clean, any more than that spells serious danger for our sneaky protagonist.
The primary mechanic of Thief is the series staple Light Gem, which lets you know how visible Garret is based on the light around him. When slinking in the shadows, guards could pass directly in front of Garrett and barely see him. However, when caught in the light of a torch, the alarm will sound, and Garret will need to find a way to escape his pursuers.
Light isn't the only thing you will need to contend with in Thief. Sound is also a big part of stealth. Garrett's footsteps will make different degrees of noise depending on how fast he is moving and what surface he is moving on. Everything Garret does makes noise, whether he is climbing up a platform or just readying his weapon. So you have to be careful what you do and when or else you will arouse suspicion.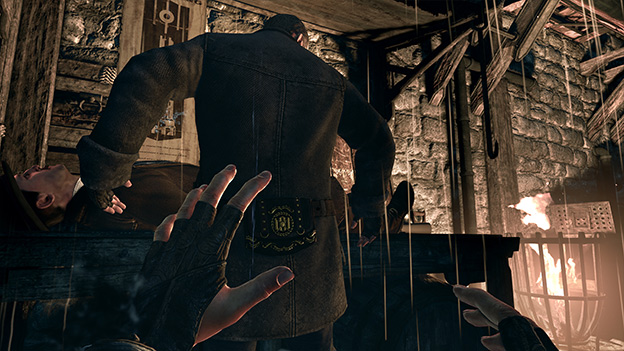 Luckily, all the tricks of the thief trade are here to help you out. Even a simple rock can be used to lure a guard away for a stealthy execution. As is the case with modern-day stealth games, you will have to hide bodies, silence enemies, and even snipe them from afar without anyone seeing you. However, even this could arouse suspicion if guards start noticing their friends disappearing, so Garrett has to be sure to not waste time in his missions.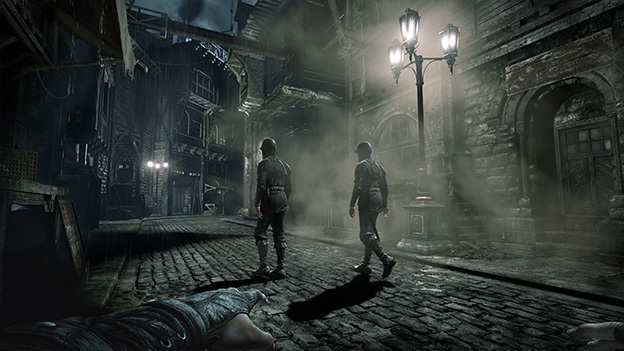 Garrett also has a brand-new ability called Focus. Essentially, Focus is a special sight mode that highlights important objects. This includes intractable pieces of the environment, items you can pick up, and of course, mission objectives. Focus also allows you to see enemies around you and their line of sight, enabling you to sneak around with greater ease. It also slows down time, allowing you to fight or shoot arrows at many different enemies at once. It's a perfect panic button when Garrett has been spotted. Finally, it lets Garrett quickly run between shadows and cover without being seen, allowing you to pass through areas that you normally would be spotted in otherwise. It's pretty much a catch-all "win" button, and you will be using it a lot. Of course, if you don't like being a shadow-fueled agent of death, you can actually turn the Focus option off for a more old-school, Thief-style experience.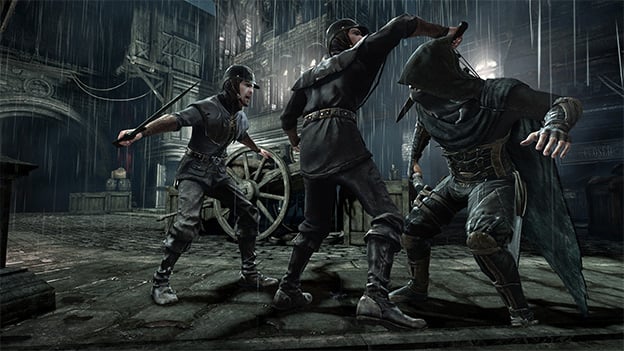 Thief strikes an interesting balance between several different types of gameplay. At points, you'll be looking to kill every guard around you, while at other points you know that even the slightest stabbing will result in far more guards descending upon your location. Sometimes you'll have to look around for secret passages or hidden treasure, while other times you'll be asked to pick locks while a guard slowly approaches your location. Heck, there are even plenty of times when the game forces you to get caught, cueing you up for a daring and fast-paced escape.
If I could describe Thief in one word, it would be "tense." However, it's this tension that makes the game so much fun. The idea that the only thing between you and death is a torch and an observant guard makes successful stealthy passages that much more rewarding. It really feels as if the game is rewarding you for being smart, rather than aggressive. Overall, it was a fun preview and looks to be a viable successor to the Thief name.
By
Angelo M. D'Argenio
Lead Contributor
Date: July 11, 2013
Game Features:


Step into the silent shoes of Garrett, a dark and solitary thief with an unrivaled set of skills

Explore the sick and troubled City, from its shady back alleys to the heights of its rooftops

Leverage Garrett's arsenal to take down guards with your blackjack, shoot one of your many arrow types, or use your newly acquired focus abilities to manipulate the environment and outsmart your enemies

Become one with the world thanks to ground-breaking visual elements and a truly tactile and visceral first-person experience

Through jaw-dropping next-gen technical possibilities, Thief delivers unprecedented immersion through sights, sounds, and artificial intelligence