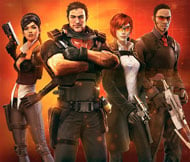 System: PS3, Xbox 360
Dev: Insomniac
Pub: EA
Release: March 2013
Players: 1-4
Screen Resolution: 480p-1080p
So what if you're not happy with your current character choice? You will be able to "LEAP" between characters at any point in the game where there is an open character. You see, Fuse is a drop-in/drop-out co-op experience, one in which the A.I. takes over any characters that aren't manned by a human being with a controller. Any of these A.I. characters are open, and can be "LEAPed" into during gameplay.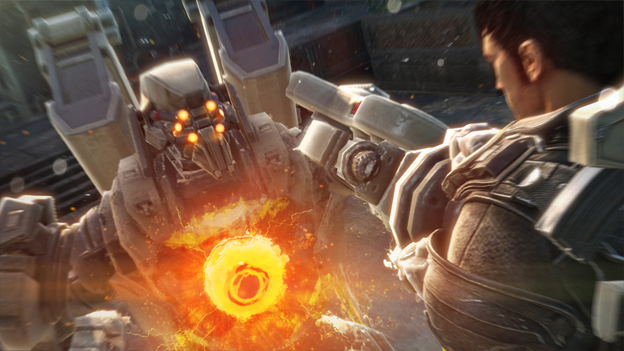 Now, this all sounds good on paper, but how does it play? Well, the kind folks at Insomniac handed me a controller and let me test it out for myself. I got to run through a scenario where the team was attempting to infiltrate an enemy compound. Once alerted, waves of soldiers were repelling down from helicopters and arriving in trucks. Thankfully, there were gun turrets situated throughout the compound, and we were able to take down the choppers and trucks while making beautiful fire and explosions. Neat. There was even a miniboss fight to end the scenario.
I played through this specific portion of the game twice, once with Dalton and once with Naya. While I had a blast messing around with Dalton's Magshield, dropping shield copies in various strategic locations in order to protect my pals, I preferred Naya. She has the ability to become temporarily invisible, and her Warp Rifle is a ton of fun.
Ultimately, Fuse is a very enjoyable shooter from a company that has a long history of inventing crazy and entertaining weapons. Sounds like a winner to me. It's expected to launch in March of 2013, and will most likely be rated M. Some of those kills are quite gruesome, after all.
By
Josh Wirtanen
Editor / News Director
Date:September 12, 2012
Game Features:


Lethal Teamwork - "LEAP" between agents during battle and combine their weapons and abilities for devastating results.

Secret Alien Tech - Whoever controls Fuse will have unlimited power at their disposal.

Experimental Weapons - Combine the agents' Fuse-powered weapons to trigger Fusion for greatly increased damage.

Class-Based Agents - Develop agents along deep upgrade paths and discover all the possibilities for lethal teamwork.