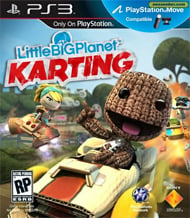 System: PS3
Dev: United Front Games, Media Molecule
Pub: Sony
Release: TBA 2012
Players: 1-8
Screen Resolution: 480p-1080p
There are some variations, though, that break away from the standard Grand Prix formula. Miniature RC maps with an isometric view are fun, as are the boss battles, which aren't races at all. Egg Hunt, for example, puts you in an arena where you push and slap eggs onto a bullseye while an enormous robotic dinosaur spits out fireballs.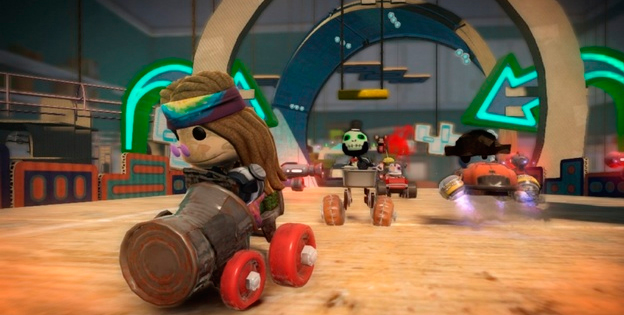 But this is LittleBigPlanet, after all, so you'll likely spend most of your hours letting your imagination run loose creating insane tracks in the Level Editor. You're given a huge sandbox to start with, along with all the Popit tools to put your course together. Whether you're an LBP veteran or not, it's pretty intimidating, but luckily there is a robust tutorial system to guide you along, which is likely to be even more expansive in the final version. Slapping on stickers and decorations, creating obstacles and speed boosts, and warping the tracks at different angles are all within the realm of possibility, so you probably won't be running out of ideas to try out.
The only problem I see with this whole karting customization thing is that it's not exactly original. In fact, co-developer United Front Games is the genius studio behind the popular ModNation Racers, which released just two short years ago. Granted, LittleBigPlanet has its own unique style, but their karting venture has a certain lack of innovation. It will be interesting to see how the final product shapes up. LittleBigPlanet is the best outlet for social creativity, testing your imaginative limits and then letting the world enjoy them. But if you've raced in the ModNation alternate universe for hours upon hours, I still don't see anything groundbreaking from Sackboy's attempt at the formula. When it finally hits the store shelves later this year, I guess we'll see if the mirrored comparison holds true or if LittleBigPlanet manages to soar to the moon.
By
Sean Engemann
Contributing Writer
Date: July 30, 2012
Game Features:


Your favorite customizable Sackboy returns with new driving abilities to guide you through a completely new fast-paced adventure.

Race through a whole new 3D world filled with a mix of familiar and unique Craftworld environments and themes. Experience competitive races, objective-based missions, boss battle challenges, and the ever-competitive arena modes.

In the creative mood? Customize your Sackboy and Karts with tons of options unlocked throughout the game. And for all you future game designers, take control of the new CREATE tools and create your own tracks, missions, games, and adventures, just like you did in all the other LittleBigPlanet games.

Share your creations with the rest of the community and contribute to the inevitable thousands of new tracks and experiences created by fans just like you.