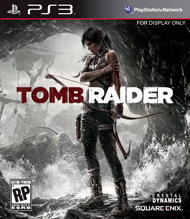 System: PS3, Xbox 360, PC
Dev: Crystal Dynamics
Pub: Square Enix
Release: March 5, 2013
Players: TBA
Screen Resolution: 480p-1080p
Blood and Gore, Intense Violence, Strong Language
Multiplayer stages in Tomb Raider also provide an interesting twist when it comes to environments. For one, the maps are littered with traps that you can set off at will. So instead of playing the routine "duck behind cover and shoot" game that we have seen so many times in the past, you can instead lure your opponents into danger zones and let the environment do the work for you. Wall spikes, pits, swinging blades, you name it—just about anything you can find in the single-player campaign can be found here.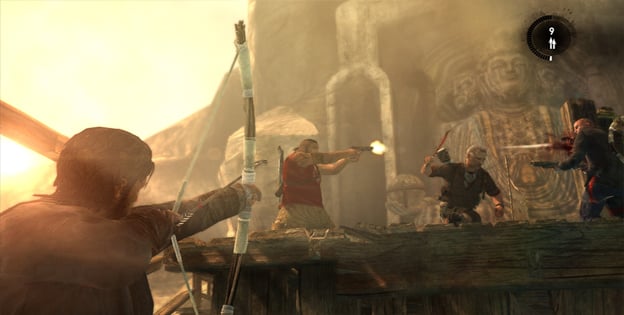 You can also trigger bigger events, such as sandstorms that blind the opponent while still allowing you to maintain your clear sight. It seems as if the multiplayer mode will be one of the most cinematic multiplayers that we have seen since perhaps Uncharted 3. Super Weapons also spawn randomly in each map. These weapons are far more powerful than anything you can put in your normal loadout. This adds a bit of a treasure hunt aspect to multiplayer matches, much like old school games like GoldenEye or Halo.
Finally, you'll be able to customize your multiplayer character in Tomb Raider by leveling up, like many other shooters on the market these days. However, it appears as if XP does more than just earn you weapons and abilities. For example, you can unlock whole other characters, and Lara Croft herself seems to be unlockable here. Different characters don't actually play differently—they are just aesthetic upgrades—but being able to take Lara for a spin certainly comes with some bragging rights.
At this point, the Tomb Raider team has been courteous enough to share all sorts of info for both the game's single-player and multplayer modes. Now there is nothing left to do but wait for the game to come out. Tomb Raider is scheduled for release on March 5th, 2013 for Xbox 360, PlayStation 3, and PC.
By
Angelo M. D'Argenio
Lead Contributor
Date: January 29, 2013
Game Features:


Superb physics-based gameplay.

A heart-pounding narrative in Lara's most personal, character-defining adventure to date.

A world in 3D: a series of tombs and other locations, through which the player must guide Lara.