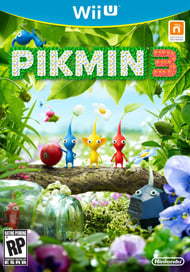 System: Wii U
Dev: Nintendo
Pub: Nintendo
Release: Q1 2013
Players: 1
Screen Resolution: 480p-1080p
Pikmin Are Too Adorable For Their Own Good
by Josh Wirtanen
I recently got a chance to hop into a Nintendo-themed trailer and go hands-on with the Wii U. I had gotten to monkey around with Nintendo's upcoming console a little bit at E3 this year, but I sadly missed out on the chance to try out Pikmin 3. And that's a shame, because Pikmin is an awesome series. Fortunately, the Nintendo trailer's rep was more than happy to help me rectify this.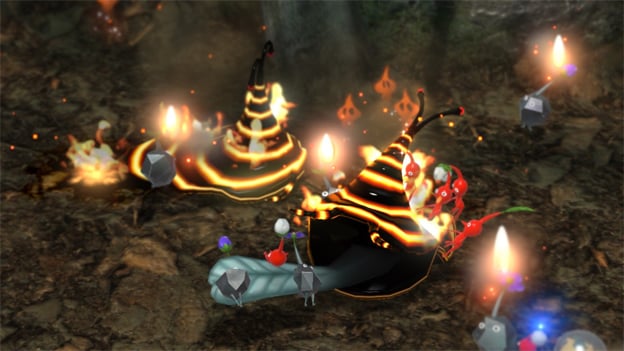 Obviously, one of the major improvements this game has over its predecessors is that we finally get to see Pikmin in HD. And boy is it ever pretty. I only had a chance to see one environment during my play session, but that environment was highly detailed, set in some sort of garden with foliage and stone walkways and such. And those brand new Rock Pikmin look awesome and shiny (but more on those little guys later.)
Pikmin 3 uses the Wiimote and Nunchuck rather than the Wii U's GamePad (though the GamePad's touchscreen will show you a top-down view of whatever map you're on, revealing all the secret areas and allowing you to strategize about alternate routes and things. I was promised that re-strategizing would play a bigger role than ever in Pikmin 3, which should make longtime fans squeal and do cartoonish cartwheels of joy.) The controls are simple: The B button blows a whistle to call your Pikmin, encouraging them to rally around you, while the A button allows you to fling them precariously across the screen. Sounds easy enough, right?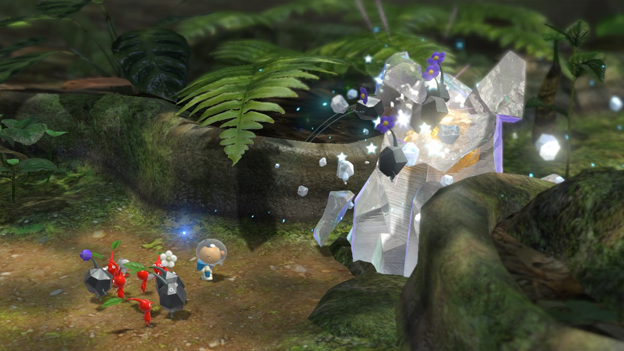 The first mission I played had me flinging Pikmin around a garden path, trying to collect as much fruit as possible. My job was to assign a particular number of Pikmin to each piece of fruit I stumbled upon. Each piece of fruit had a minimum amount of Pikmin required to carry it, and the heavier the fruit, the more Pikmin it took to carry the thing. Of course, the more Pikmin I assigned above that limit, the faster they could move the fruit back to my ship. If I kept the number of Pikmin under this limit, they would obediently struggle and fail and make me sad.
All the while, I had to be careful to not spread them too thin in case we got attacked by some adorable critter looking to make a snack out of my Pikmin. Which happened quite often, actually. Thankfully, those little Pikmin are a lot meaner than they look, able to bring down the mightiest (and cutest) of foes when grouped up.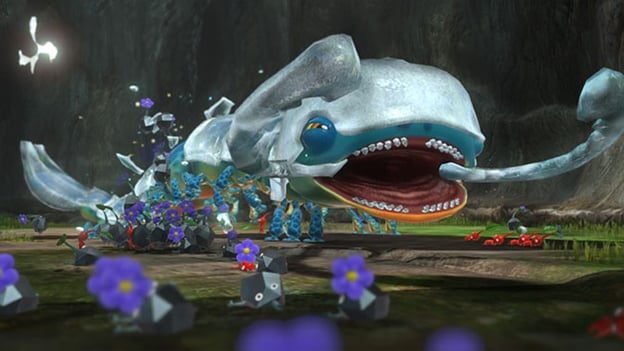 Additionally, there were shell bugs that dropped nectar when attacked, and eating this tasty nectar would cause my Pikmin to be powered up. (You can tell how powered a Pikmin by observing the flower on the top of its head. A fully powered Pikmin will have a fully developed flower.)
Pikmin could also tear down walls, and at one point they even used a pile of debris to build a secret bridge back to the ship to make transport much faster.