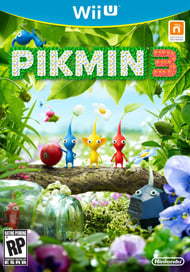 System: Wii U
Dev: Nintendo
Pub: Nintendo
Release: Q1 2013
Players: 1
Screen Resolution: 480p-1080p
I was then introduced to the all new Rock Pikmin, who were able to use their hardened exteriors to crack through crystals on the map. (I was told this was only one of the uses for this new Pikmin type, and a second use would present itself during the next section of the game, as I'll explain in the next paragraph.)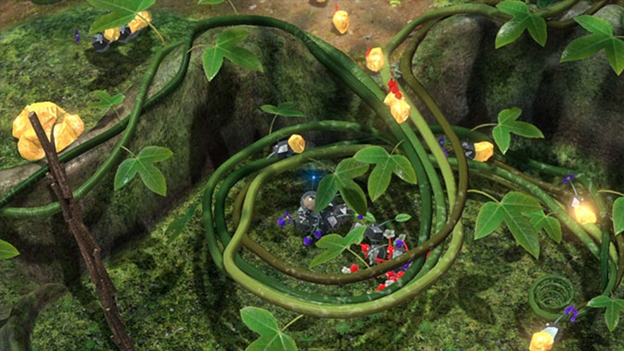 Next up was a boss battle against a giant blue crustacean of some sort. (It looked like a bizarre cross between a lobster and a catfish.) I was able to use the Rock Pikmin to crack through its armor, then use my standard Pikmin to attack the meaty center with all the adorable violence you'd expect an army of Pikmin to muster.
Ultimately, I was able to score a Gold Medal on this boss fight, which is a fair improvement over the Silver Medal Cheat Code Central's Josh Engen was able to earn at E3 this year. Of course, this proves that I am a way better Pikmin master than Josh Engen.
So far, Pikmin 3 is shaping up to be an absolutely incredible title. Though it was originally hoping for a Wii U launch window release date, it's been pushed back to early 2013. It sucks to have to wait a bit longer, but when we've been waiting for a new Pikmin title for more than eight years already, we're probably best off letting Nintendo take as long as they need in order to get this thing just right.
By
Josh Wirtanen
Editor / News Director
Date: October 8, 2012
Game Features:


Players can play using Wii Remote Plus and Nunchuk-based controls or the Wii U GamePad controller.

The GamePad acts as an overhead map and radar to track Pikmin movements in real time.

The greater processing and HD capabilities of the Wii U console are put to extensive use, resulting in a more intricately designed world.

After completing a stage, the replay feature allows players the option to review their results using the GamePad and TV.

In addition to the five original types of Pikmin encountered in previous games, the new Rock Pikmin bring powerful new abilities and are able to crack hard outer shells of enemies and break through solid barriers.

Mission Mode challenges players to earn the most treasure in a given time.