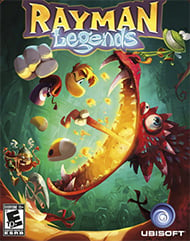 System: Wii U
Dev: Ubisoft
Pub: Ubisoft
Release: February 26, 2013
Players: 1-4 + Asymetrical GamePad Player 5
Screen Resolution: 480p-1080p
Comic Mischief, Mild Cartoon Violence
Having those varied multiplayer options is great, because at its heart, Rayman Legends remains a challenging platformer with a one-hit, one-kill philosophy. Players working through the game alone will likely repeat difficult segments many times in order to successfully complete them and save all the captured critters found in the game's levels. Going through the game with more than one player allows for individuals to make more mistakes and gives players the option to have a full-time Murfy assistant.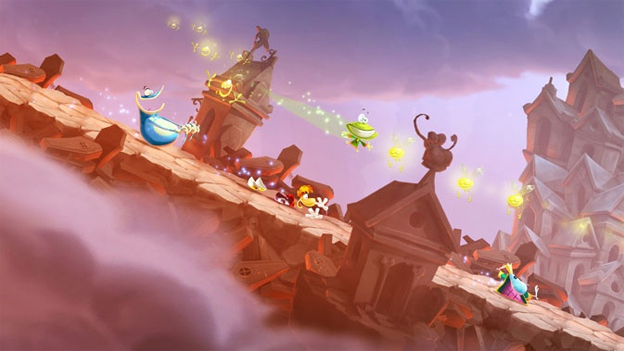 Music was a definite highlight of Rayman Origins, and it will be more tightly integrated into the gameplay of Rayman Legends. Certain levels are being billed as "Platforming Hero" levels, in which the player will want to run, jump, and punch to the beat of the song that's playing. An example of these levels, Castle Rock, is found in the demo. It was certainly my favorite of the demo levels, possessing frantic yet rhythmic gameplay and oodles of charm.
Rayman Legends retains the gorgeous 2D visuals found in its predecessor, but uses the Wii U's graphical capabilities to infuse the levels with improved lighting effects, more animation frames, and other subtle improvements. The new worlds seem a less immediately zany than the animate Mexican food and singing Lum-packed Rayman Origins levels, but are still full of weird monsters and hilarious animations.
Wii U owners should definitely take a few moments to try out the Rayman Legends demo, especially if they can finagle a friend or two to try out the multiplayer experience. The new Rayman series has managed to hit a sweet spot in which multiplayer platforming is an exercise in cooperation instead of frustration, and in which the audio and visual design actually manages to be a bit edgy instead of coming across as lame. Judging from what we've played so far, new additions like Murfy and the Platforming Hero segments only improve upon the formula that was established in Rayman Origins.
Rayman Legends is rightfully one of the most anticipated titles in the Wii U launch window software lineup, and it should rekindle excitement around the Wii U when it arrives in late February.
By
Becky Cunningham
Lead Contributor
Date: January 18, 2013
Game Features:


Five-Player Co-op: Now even more players can join the fun! With four Wii Remote controllers (or Pro Controllers) and the Wii U GamePad, up to five players can play simultaneously! Jump in and jump out at any time during the 80+ levels of gameplay!

Murfy to the Rescue: As the dedicated character on the Wii U GamePad, Murfy can tickle enemies, rotate platforms, move objects, cut ropes, dig paths, and even shoot a slingshot to take out dragons! Discover all the ways Murfy can interact with the world!

Rayman Rocks: See if you have what it takes to be a Platforming Hero – jump to the beat of a drum, punch to the bass line, even zip-line during a guitar sustain. Timing and rhythm are the keys to completing these maps set to music.

The Game Must Go On: The Wii U console allows you to keep playing the game – even when your television is off – and continue Rayman's adventure on the Wii U GamePad!