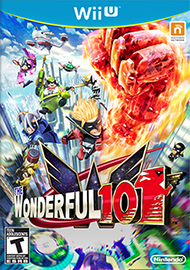 System: Wii U
Dev: Platinum Games
Pub: Nintendo
Release: TBA
Players: 1
Screen Resolution: 480p-1080p
Different uniting applications can be used outside of combat to solve simple puzzles and access new areas. Your team can turn into a giant hand to turn an equally large dial, stiffen vertically to become a makeshift ladder to scale buildings, and form chain links to cross chasms. All of these formations require utilizing the touchscreen on the Wii U GamePad, tracing patterns associated with a specific power. It has not been revealed whether you team quota dictates which powers are available, but the damage output is certainly affected, as well as score bonuses tallied at the end of each level.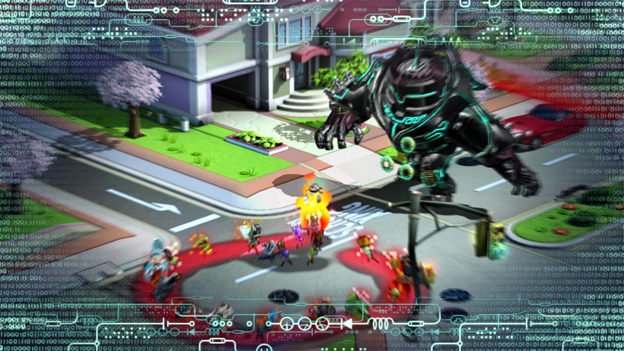 Despite early game trailers that seemed to indicate up to four-player co-op action, the official game site states The Wonderful 101 as being a single-player experience, which seems accurate considering the need for the Wii U's GamePad. Perhaps there is some online multiplayer feature, though no news of that has been revealed yet.
The camera angle gives a nice aerial view of the action, considering how often the screen is pummeled with tiny characters, gargantuan enemy robots, and all the carnage from combat. The screen shakes with every explosion, your team zips across the metropolis at a hurried pace, and every second of every trailer I've watched now just screams fast-paced action from start to finish.
The Wonderful 101 was originally slated as a launch window release, though the end of that window is drawing nigh. With trite titles coming and going at such a fast pace, this fresh design from Platinum Games is one many are eager to experience. It seems like a perfect game for Spring, opening your bedroom window a crack to let some cool air in while you have a grand old time saving the world. Let's make it happen, Platinum.
By
Sean Engemann
Lead Contributor
Date: February 11, 2013
Game Features:


Morph into powerful weapons to crush invaders or turn into objects like a giant fist or bridge to interact with and traverse the environments.

Explore each stage to find helpless citizens and recruit them to join their army of heroes. The more heroes you gather, the greater your Special Morph Powers will be.

Use the Wii U GamePad's touchscreen to command heroes such as Bonzai Man, Vending Machine Man, and even Toilet Bowl Man. Heroes can also morph into gelatin to guard themselves from enemy attacks.

Use the GamePad to explore areas unseen on the TV screen and solve puzzle elements.