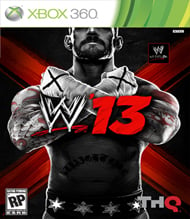 System: Xbox 360, PS3
Dev: Yukes
Pub: THQ
Release: October 30, 2012
Players: 1
Screen Resolution: 480p-1080p
A new gameplay element has been introduced in WWE '13 called "OMG moments." These moments are essentially quick time events that you can activate in the middle of a match under certain circumstances. They allow spectacular match-changing events to take place. For example, if you play the Big Show, you may be able to choke-slam your opponent so hard that the ring falls apart. You can similarly interact with special arenas, such as cages, allowing you to slam people through or off the top of structures. You can even interact with the crowd and the announcers if the right button prompts come up. Some fans have worried that this will "unbalance" the game, but the WWE franchise has never really been about balance as much as it is about spectacle.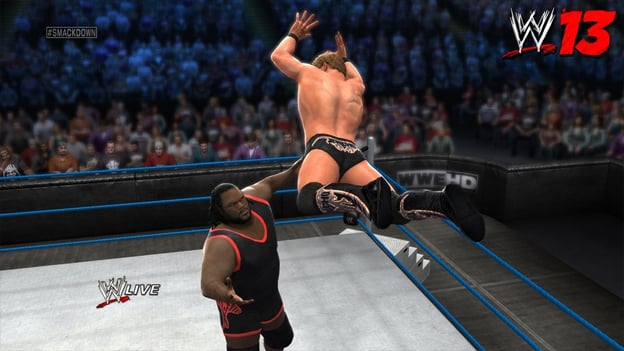 Unfortunately, there isn't a whole lot else to talk about. Everything else has practically been copy-pasted from WWE '12. Limb targeting returns, the submission and pin systems return, and even move-sets are at this point mostly identical to WWE '12's. Perhaps THQ will reveal something else groundbreaking before the game's release, but it is looking unlikely.
Even though hands-on time has been limited and preview videos have been sparse, it's safe to say we all know what to expect from WWE '13. It's another title in the WWE franchise with an interesting new mode and an expanded roster. This is more than enough to get hardcore wrestling fans to buy it, but for the rest of us it's probably not worth full price. Similarly, if you weren't a WWE fan before, then WWE '13 probably won't make you a believer. Either way, be on the lookout for WWE '13 when it releases late October.
By
Angelo M. D'Argenio
Contributing Writer
Date: August 17, 2012
Game Features:


Predator Technology 2.0: Driven by new animations, transitions, and modified controls, Predator Technology returns to deliver intelligent, fluid, and engaging WWE action, resulting in a smoother gameplay experience than its franchise predecessors.

Create and Share Your WWE: Utilize the franchise's industry-defining Creation Suite to develop and customize Superstars, arenas, entrances, finishing moves, storylines, and more! Go online and upload your creations to share them with the WWE Universe and download creations from others to add to your own experience.

Relive the Attitude Era: You have heard the legendary stories and witnessed the history. Now, for the first time, return to an unparalleled and groundbreaking era in WWE history: a time of pure raucousness, grandiose personalities and colossal revolution through a franchise-first single-player campaign focused on eight purveyors of attitude during the famed "Monday Night Wars," including WWE Hall of Famer "Stone Cold" Steve Austin.

WWE Live: Experience the atmosphere, spectacle, and fervor of a WWE live event through attention-grabbing Spectacular Moments, including ring breaks and barricade crashes, along with a brand new audio system designed to produce the most authentic and vibrant commentary, sound effects, and crowd participation levels ever experienced in a WWE videogame.

WWE Universe 3.0: Control the virtual WWE experience like never before in the franchise's popular career-style mode, as individual decisions throughout gameplay will dynamically introduce matches, alliances, rivalries, and unpredictable moments along the path toward becoming a WWE champion.