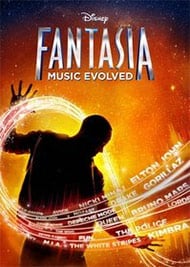 System: Xbox One*, Xbox360
Dev: Harmonix
Pub: Disney Interactive Studios
Release: October 21, 2014
Players: 1-2
Screen Resolution: 480p-1080p
Lyrics
The most enjoyable part of the single-player is actually the menus. I know this sounds weird, but navigating the single player mode actually takes you through a series of delightfully animated storybook style locales. The characters here come alive in wonderful ways, reminiscent of the imaginings of Miyazaki, and watching these realms grow and change as you complete song after song is enjoyable, far more enjoyable than the story itself.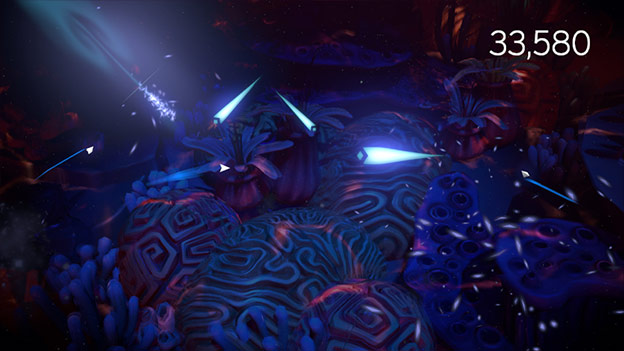 Of course, every music game is judged by the caliber of its track list and Fantasia's is kind of a mixed bag. On one hand you have current day pop hits like Lady Gaga, Lorde, Nicki Minaj, Drake, and fun. On the other hand, you have classical composers like Mozart, Bach, and Dvorak. On yet a third hand, you have classic rock hits like Jimi Hendrix, Peter Gabriel, The Who, and Elton John. These three different music sensibilities provide a little something for everybody, but at the same time they clash a bit. Going from Mozart to Minaj is just… odd. I have a feeling that any particular player will only really enjoy about a third of the game's track list, but the track list is big enough (and the remixes are varied enough) that this probably isn't an issue. It's just odd that we didn't see any entrants out of these three very specific categories. I would have loved to wiggle my arms around to some Ska.
Overall, Fantasia: Music Evolved was an enjoyable experience. I certainly wouldn't call this the next big rhythm game sensation. It simply lacks a competitive edge that made Dance Central and Rock Band great. But it is fun, and if you belong to a music game centered group of friends or family, it's well worth the price. If the whole purpose of Fantasia: Music Evolved was to make you feel like Mickey Mouse did in the Fantasia motion picture, then it succeeded…. I just don't think Mickey ever thought he would be casting spells to Nicki Minaj.
By
Angelo M. D'Argenio
Contributing Writer
Date: November 3, 2014
Game Features:


Players enter the magical realm of Fantasia selected by the legendary sorcerer Yen Sid to hone their musical and magical prowess as his new apprentice.

Perform to hit songs by using natural gesture-based motion gameplay. Tracks from Bruno Mars Queen Fun. Kimbra and AVICII and other top artists.

Transform and remix music via magical manipulators in real-time like never before.

Explore breathtaking environments with a motion controlled muse.

Discover worlds filled with hidden musical interactions designed to engage players and encourage creativity.