Best Fighting Winner 2014

During previous awards ceremonies, competition from the likes of Street Fighter or Mortal Kombat might have made this choice a much tougher call. However, even though 2014 didn't see the release of many fighters, Super Smash Bros. for the Wii U would still have been rough competition to beat. It's chock full of characters and content and is every bit the love letter Nintendo fans have come to rely on. There are some releases which justify purchasing new hardware, and Super Smash Bros. is one of them. If you own a Wii U, you owe it to yourself to pick it up.
Check out our full review if you're still not convinced.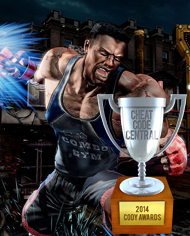 We were pleasantly surprised to see the rejuvenation of the Killer Instinct franchise, after Microsoft announced they were bringing it to the Xbox One back in 2014. Season 2 saw the return of several old favorites such as T.J. Combo, Cinder, Riptor and more. Those who remember pumping quarters into the original arcade machine will be instantly reminded of why this was such a fun fighter in its heyday. Its solid controls and easy-to-learn move set makes it extremely accessible to veterans and newcomers alike. Believe us when we say the download is well worth the price of admission just to hear sound of a COMBOOOO BREAKERRRRR one more time!
Find out more in our full review.
Read Our Reviews of the Other Nominees:
Ultra Street Fighter IV