Best Independent Winner 2014

Have you ever walked into a Chuck E. Cheese and got that uneasy feeling the animatronic characters were going to murder you while your head was turned? No? Well, spend five minute with Five Nights at Freddy's and you certainly will. This quirky little title does a great job ramping up a sense of anxiety in players through atmosphere, rather than relying on the jump scares found in conventional survival horror.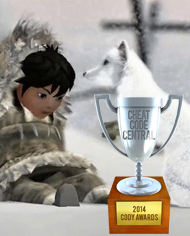 In a world dominated by shooters, Never Alone reminds us that puzzling and platforming our asses off can still provide loads of fun. Here you're required to consistently swap between two characters: Nuna and the fox. Nuna is able to snatch up objects with her bola, while the fox is the speedier of the duo. This tale (pulled from native Alaskan folklore) is just the right balance of difficulty and storytelling that will easily draw you in. Don't let this one slip under the radar, folks!
The Other Nominees:
Home
Costume Quest 2