Studio of the Year Winner 2014

Telltales Games can be credited for almost single-handedly dusting off the point n' click adventure and bringing it back to the forefront. With extremely well-crafted games like The Walking Dead, The Wolf Among Us and now Game of Thrones, we've really got to hand it to them. Winning Studio of the Year is no small feat (with stiff completion from heavy hitters like Rockstar, Ubisoft and others) but we're confident Telltale has earned its spot at the top of this year's list. Time to bask in the hot sun.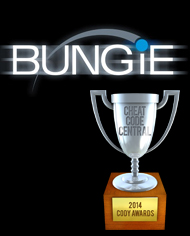 Needless to say, 2014 will go down in the record books as a big win for Bungie. There was, no doubt, a copious amount of nail biting around the Bungie offices once Destiny finally went live, as fan reaction would either make or break them as third-party developers (with this being their first outing after leaving the Microsoft mothership). By all accounts, Destiny was a home run/touchdown/slam dunk/insert other sports metaphor here. This success has officially christened them a force within the game industry, one that'll likely be sticking around for years to come.
The Other Nominees:
Ubisoft Montreal
Rockstar North