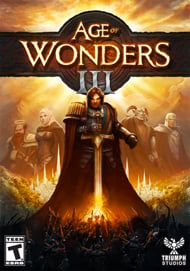 System: PC
Dev: Triumph Studios
Pub: Triumph Studios
Release: March 31, 2014
Players: 1
Screen Resolution: 480p-1080p
Violence, Blood, Sexual Themes, Partial Nudity
It's A Wonderful Life
by Sean Engemann
It's been a long time since the name Age of Wonders has graced our PCs--nearly eleven years in fact. The original 1999 title brimmed with tactical campaigns and lore that was nearly irresistible to strategic fantasy fans. Other developers have adopted the genre over the years, making it hard for Age of Wonders III to be placed on its own pedestal. Yet Triumph Studios still managed to stuff some unique features into this now four year project, providing a fresh experience for veterans of the empire building format.
Age of Wonders III offers two lengthy campaigns, taking either the side of the High Elves or the Humans where escalating tensions between the two races turns to war over territory and ideology. There is also a handful of standalone missions with specific objectives, and an endless supply of randomly generated maps to customize to your liking.
Then it's a matter of taking your army on a trek around the hex laden world, revealing resource nodes, monsters to eliminate, cities to liberate and new ones to be found. Your settlement includes a domain radius to control resource producing sites. Gold is used to manufacture units and build new city structures. Mana is also used to produce units and structures, but is also a resource pool for casting spells. Casting Points are a pool used by every hero, which is regenerated each turn. Some spells are specific for combat, while others can affect the world itself. New spells and empire upgrades are learned through research. Knowledge Points determine how many turns it takes to complete a specific skill research.
Your empire's domain can expand through raising the population of towns or building fortresses. Grabbing and holding on to as much real estate as possible is vital to building a force to be reckoned with. Yet with so many unit and building production possibilities and the gold upkeep that comes along with maintaining an army, the bigger your empire becomes the more thought must be put into how to spend your resources and how to stay out of the red financially.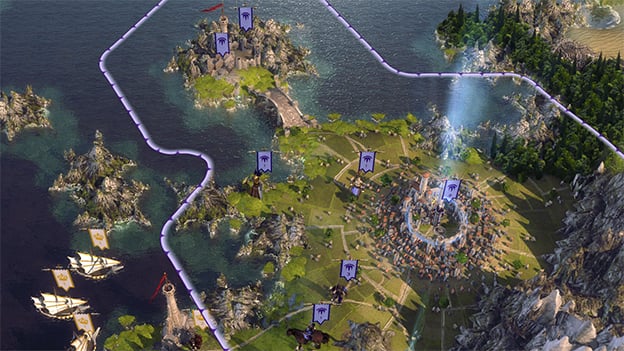 Pulling back the veil of the fog of war always reveals an interesting discovery. Fantastical creatures and fiendish monsters may protect tombs and ancient ruins that could yield versatile magical items to equip and bolster your heroes. Depending on your army strength and disposition towards good or evil, you may even sway these creatures to join you or retreat without the need for combat. Side quests also present themselves, adding even more incentives to stray off course of the main objective. As your troops spread out, keeping track of everyone is a tricky affair, especially with touchy controls for scrolling around. Zooming out reveals a useful and interesting game feature, where the overworld seamlessly transforms into a cloth map drawing, complete with easy to spot icons for all the pertinent locations.
But of course amassing a legion of soldiers and monsters isn't just for a casual jaunt around the map. Apart from befriending a few neutral groups, empire expansion requires taking land by force, with battles unfolding a whole new set of strategy. When you engage an enemy on the overworld map, you can do so with multiple groups located in every hex adjacent to the target. Defenders can so the same, stockpiling forces in a cluster around key areas such as the throne city. The battle maps are authentic to the terrain of engagement, thus attacking a group in a forest litters the battlefield with trees to act as cover, or trying to overtake an arctic worship site requires wincing through ice storms triggered by the god being venerated.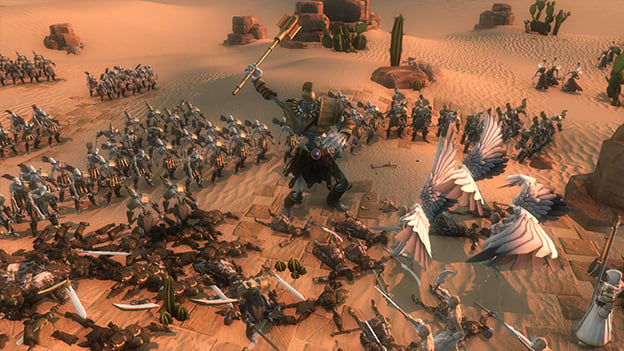 Age of Wonders III offers a good assortment of options to pace the combat to your play style. You can take complete control of your army, strategically moving each unit manually to flank enemies and maximizing your attack power while minimizing damage taken. At any point during combat you can switch on the Auto Combat and watch as the computer calculates the moves for you. For the most part the AI makes the right choices, however it does play more offensively than defensively, sometimes thrusting your hero into the fray, which isn't a wise choice during the campaign when the death of certain heroes spells game over. The quickest combat option is choosing the auto feature before even entering the battlefield. The outcome is figured in mere seconds, allowing you to continue scouring the map, but the results could leave you a few units shorter, depending on the balance of strength.