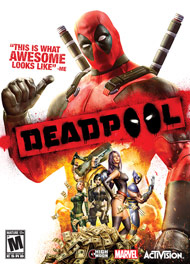 System: PC, PS3, Xbox 360*
Dev: High Moon Studios
Pub: Activision
Release: June 25, 2013
Players: 1
Screen Resolution: 480p-1080p
Blood and Gore, Intense Violence, Mature Humor, Sexual Content, Strong Language
Visually, Deadpool is competent, but I don't see it winning any awards. The character models are detailed and clean, what you would expect from an A-list developer like High Moon. Character animations are quick and flow well together, and you truly feel like a badass when you pull off some of Deadpool's more epic combos. The HUD is presented with comic book flair as is the menu system, and dialogue is given the comic treatment in cutscenes as well.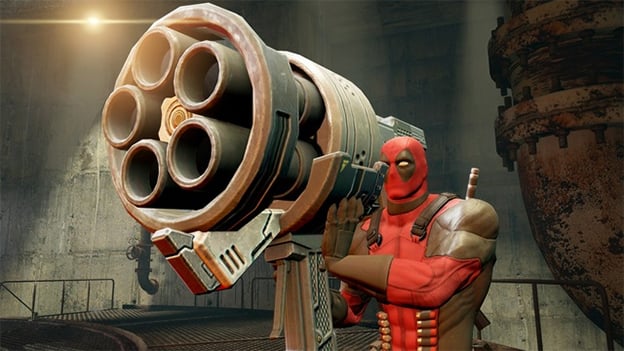 Cutscenes are the main comedic delivery method in the game. Even though Deadpool is shouting obscenities and witty one-liners throughout the game, the cutscenes deliver set-piece action and narrative comedy that can't be found in other parts of the game. It's at these points that I found myself with and ear-to-ear grin or laughing uncontrollably the most. Add to that the obliteration of the fourth wall and what you get is a fully realized Deadpool that delivers on all facets of his comic persona. Sure, you will find a multitude of crude jokes and adolescent humor–but that's what Deadpool is all about.
Deadpool is a must-play game for any comic book fan or, for that matter, any gaming fan. The over-the-top delivery, intense action, maniacal humor, and character accuracy all combine to make something that can be easily missed in today's gaming market–fun. It seems that High Moon went the extra mile to create a game for Deadpool fans that put the portrayal of the character first, which is often a huge oversight in the creation of games based on beloved characters. Without that character portrayal, this game would have simply been a hollow, third-person action game with another wasted license.
However, this isn't the longest game out there. It will probably only take you about 6-8 hours to complete. And sadly, there isn't a ton of replay value to this title. There are challenges to complete, but they don't feel necessary, and there aren't really any collectibles to hunt down either. Nevertheless, it is definitely an experience worth having. So if you like having a good laugh, fart jokes, guns, explosions, boobs, chimichangas, comics, swords, and pretty much anything awesome–you should probably go out and get this game. If you don't like these things–there isn't really anything left to say to you.
By
Joshua Bruce
Video Director
Date: June 25, 2013
Game Features:


Let's Get Some Action: I made sure to capture all my good sides, so I made my game a third-person, action-shooter. (Yep, you get to look at my heinie.)

X-Men Groupies: Keep a look out cuz some of my X-Men pals (Whoa, What Pals?!) are making an appearance.

Insane Combat: I'm really good at killing, so I made it a blast stringing together combos and totally eviscerating my enemies. (Ev-is-cer-a-ting!)

Weapons Galore: I brought my skills and a buttload of my favorite things. Katanas (check), guns (bang!), explosives (boom), duct tape (quack), and of course, yours truly? ME! (Checkmate!)