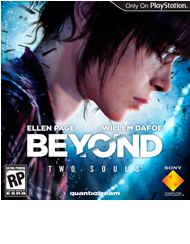 System: PS3
Dev: Quantic Dream
Pub: Sony
Release: October 8, 2103
Players: 1-2
Screen Resolution: 480p-1080p
Blood, Violence, Sexual Content, Strong Language, Use of Drugs and Alcohol
In addition to the actors going above and beyond the call in their performances, the score of the game is just as moving. The last work of Norman Corbeil is something that will be felt throughout the world. Having provided music for Heavy Rain and countless films, his presence resonates in the emotional score of the game. While the game is a technical marvel, and it has a beautiful, accompanying score, there are some issues most will have with Beyond: Two Souls.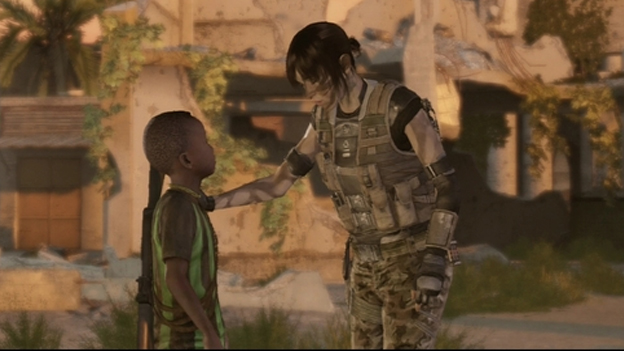 The biggest issue will be a repeat offender from Heavy Rain. There's not a lot of game behind the narrative. While, yes, there is more to do in this than what is present in Heavy Rain, there is still a very distinct absence you will feel. Also, while refined, many will see the visual cues on screen and feel they are still not as clear as many would like them to be. While I personally didn't have issue with this, I know many saw it as a flaw before, and therefore, many will again.
As I stated before, this title is glorious to look at. It is eerie how close the character models look like their physical counterparts. It is probably the closest yet to controlling a cinematic experience. However, there are a few instances of texture pop in, aliasing, and mild screen tearing. They don't ever truly take away from the experience of the game, but they do happen at moments in which you find yourself shocked by a flaw, minor as it is, in such a beautiful experience.
We all wonder what will happen when we pass from this world to the next. We all wonder what will come for us at the end--if there's anything at all, or if there's something beyond waiting for us. While I cannot say Beyond: Two Souls delivers the answer indefinitely, I can say this: You will walk away feeling differently towards the narrative direction of games in the industry. Quantic Dream proves once more that games are more than guns that go pew pew, criminal violence, and scantily clad women. The team at Quantic proves that if games are made correctly, players will have an experience they will feel for many years to come. For this reason alone, I love this industry and those who constantly want to bring the best gaming experiences available, and Beyond: Two Souls is a perfect example of this.
By
Matt Walker
Editor-In-Chief
Date: October 8, 2013
Game Features:


Dive into a gripping and unpredictable psychological action thriller starring Academy Award-nominees Ellen Page and Willem Dafoe.

Explore stunning and varied settings across the world in an epic journey through 15 years of a character's life.

Take full control of Jodie as well as the mysterious entity in spectacular action sequences.

Experience cutting-edge technology from Quantic Dream in one of the best-looking games ever seen on the PlayStation 3.