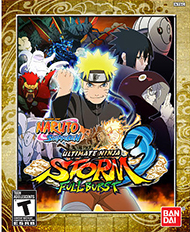 System: PS3*, Xbox 360, PC
Dev: CyberConnect 2
Pub: Namco Bandai Games
Release: October 22, 2013
Players: 1-2
Screen Resolution: 480p-1080p
Blood, Mild Suggestive Themes, Violence
Aside from these updates, the game has 100 new challenge missions to offer and a whole host of new costumes to try out. The challenge missions are… OK. Naruto Shippuden: Ultimate Ninja Storm 3 Full Burst is best when played in single-player mode, so including more single-player content is always a good idea. The problem is, a lot of them feel like busy work, and it's unlikely that anyone other than die-hard completionists will go through the trouble of completing them all.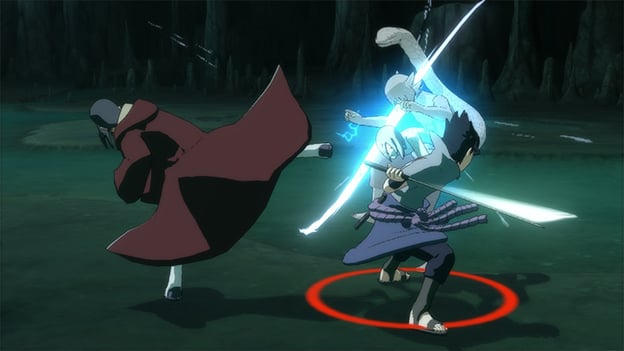 The costumes, on the other hand, are really a nice touch, once again proving that aesthetics rule the day with this game. Call me an otaku, but dressing up Naruto and friends in school uniforms is a nice treat. There's also samurai armor, funny hats, and references to other anime such as Dragon Ball Z and One Piece. So if you are the kind of guy that likes to play dress up, customizing each character to your own twisted aesthetic specifications, you can lose yourself in the many costume options the game has to offer.
Whether or not you purchase Naruto Shippuden: Ultimate Ninja Storm 3 Full Burst will come down to whether or not you purchased the original. Even at a discount price, Full Burst doesn't offer that much more than its vanilla counterpart. So if you bought and completed the original, it doesn't make a lot of sense to drop $40 on a new story chapter and one character. Luckily, CyberConnect2 and Namco Bandai are taking a page out of Capcom's book and offering Full Burst as a DLC expansion as well as a full game, and it will only cost a mere $9.99 as DLC. Granted, this will mean that you can't bring the game to your friend's house in order to show off Sage Mode Kabuto, but that's an acceptable loss.
In short, if you haven't played Ultimate Ninja Storm 3 yet, then Full Burst is a pretty good deal, but then again, if you haven't played it yet, you probably aren't a hardcore Naruto fan, and that's basically the one demographic that the game really appeals to. If you are a hardcore Naruto fan, then pick up the DLC expansion to the vanilla version we all know you bought and call it a day. If you are looking for a good fighting-game experience, however, you really should look elsewhere. Full Burst may not be as cinematic as games like Heavy Rain and Beyond Two Souls, but make no mistake, the whole purpose of this game is to watch the Naruto plotline unfold again… this time with funny costumes!
By
Angelo M. D'Argenio
Contributing Writer
Date: October 28, 2013
Game Features:


Additional Chapter - Finally free of Kabuto's control, Itachi intends to crack the Reanimation forbidden technique. Will an unprecedented Uchiha alliance with Sasuke be enough to handle it?

New Playable Character - Kabuto reaches the almighty Sage Mode and is now playable in versus mode. Unleash his power and defeat your opponents both offline and online.

Director's Cut - Discover completely revamped Storm 3 cinematics and experience the epic conflict consuming the entire ninja world more intensely than ever before.

100 New Missions - Embark on a whole new series of missions, many with their own uniquely challenging objectives.

38 Additional Costumes - Outfit characters in a selection of 38 costumes from the Naruto Shippuden: Ultimate Ninja Storm 3 DLC packs.