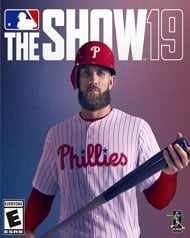 System: PS4
Dev: SIE San Diego Studio
Pub: Sony
Release: March 26, 2019
Players: 1-8 Player
Screen Resolution: 480p-1080p
Users Interact and In-Game Purchases
Staying on Top
by Jenni Lada
Who's ready to be taken out to the ball game? MLB the Show is back with MLB the Show 19. Someone might be tempted to go, "Second verse? Same as the first!" That wouldn't be exactly accurate, though. While many modes are returning, like Diamond Dynasty, Franchise, and Road to the Show, there are some significant additions here. Not to mention, familiar features have received updates that can be as minimal as rebalancing and major as new maps or opportunities to grow a character and improve their relationships. It's as good a time as ever to play ball.
What's really striking about MLB the Show 19 is how much it seems like the game wants a player to feel comfortable, improve, and eventually perform well. When you start for the first time, it asks you to pick the control options you want for actions like hitting, pitching, base running, and catching, allowing you to have a moment to test everything out and get situated. There are ample tutorials available, with tips well integrated, but all of these can be turned off easily for returning veterans. When you are at bat, on the mound, in a pause menu, or a number of areas, it is giving you feedback. There are lots of difficulty options. It wants to welcome you in and get you ready for all of its challenges or matches against real people.
It covers people who want some quick fun. Play Now gets you right into a match, either offline or online. It's basic baseball at its finest. Home Run Derby is there as another quick option. Like Play Now, it puts you right into a match. Except here, it has a retro aesthetic. The players and stadiums still look great, but the UI and sound effects feel like they come from the golden age of gaming. Both are just fun ways to take to the field.
But then, some of the other modes that get a little more focused give you just as easy a way to start playing ball. Even better, they let you feel like some sort of hero. Moments is fantastic at this. In this mode, you are specifically going through iconic baseball memories. Like you get to step into the careers of legends like Willie Mays, Babe Ruth, and the 2016 Chicago Cubs. (That last one is near and dear to my heart.) With Storylines, it can feel more like a chance to relax and learn while playing a great game. 1st Inning is a little more challenging, since you are basically "fighting" a legend as though he were some RPG boss. As an example, the first one here has you against Rich "Goose" Gossage back when he was with the Yankees, attempting to get a runner on third home with two at bats by hitting one of his legendary pitches.
March to October is another amazing opportunity. This, like Moments, is entirely new in MLB the Show 19. This lets you take teams of varying potential and go from March until October. It has you playing through what people would consider the best parts of one team's season. You pick what tier you want to come in with, say picking the Cubs from the Favorites, who are projected to win 91 games, or the White Sox from the Longshots, who only have around 68 projected wins. You choose your team and difficulty after that, then try to make your season the best ever from opening day on. It was especially fun to see the Cubs go against the Rangers here, knowing that the real opening day game against the Texas team would take place a few days later on March 28, 2019.
As for the other modes, it generally feels like MLB the Show 19 offers a series of incremental changes and improvements. Right after creating an avatar in The Road to the Show, the campaign that has you making an original character, interacting with teammates, and trying to become a success, the game was letting me make decisions that improved my personality traits, giving me options about where I would go, and letting me have opportunities to get to know fellow Cubs teammates like Anthony Rizzo. Diamond Dynasty has more for you to do and has its different missions laid out better. Like it right away starts you off by showing how missions work before sending you in. Then, you can jump right into your Ranked Seasons, Battle Royales, Moments, Events, and Conquests. Conquest in particular is great, with it letting you attack, steal, reinforce, and conquer in Rookie, 1st Inning Strikeout Challenge, and Nation of Baseball challenges. Each one has its own map and difficulty, making your efforts feel worthwhile. You can even step back and go through a simulation with Franchise, running everything and attempting to meet each team's yearly goal and contract goal. There is just a lot to do here, and it all feels more cohesive than ever.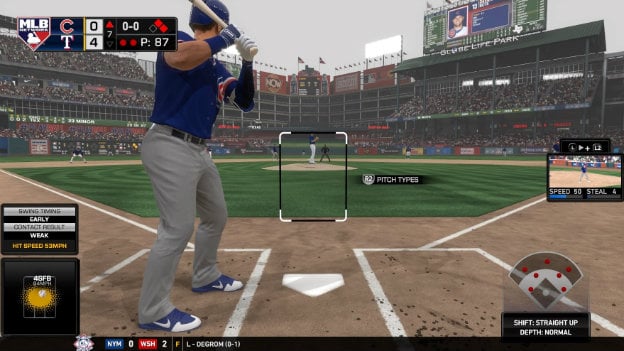 Speaking of working well together, it is also heartening to see so many options to play with other people online. You can bring up the Quick Menu to see your friends list. Other people playing MLB the Show 19 could be invited to take part in a quick one-on-one Exhibition game with you. The online elements worked really well, though there would sometimes be occasional moments where one character might freeze while the others were running in for their turn at bat. There was no lag that might have a negative effect on hitting runs or catching balls.
The downside is, if you decide to play certain modes without downloading the latest update or there's an outage that keeps you from playing online, even their solo elements will be locked off. Diamond Dynasty is one. Another is actually Moments, which can be tied to Diamond Dynasty and help you unlock rewards. While early impressions had suggested it could be played offline, I found that if I started MLB the Show 19 without installing an update, I would be locked out of playing Moments until the patch was in place.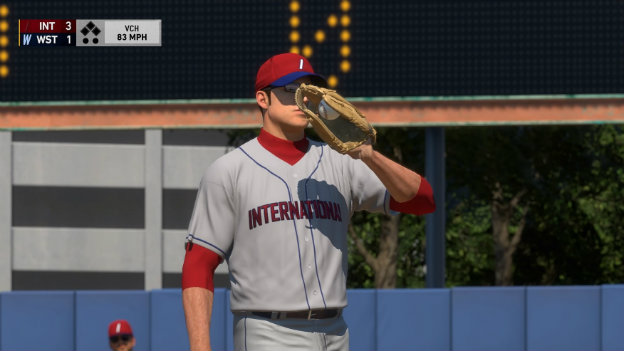 Finally, and this should be a given, MLB the Show 19 looks gorgeous. The players can sometimes look uncanny in their realness. The stadiums are perfectly recreated. People in the crowds are unique, with their own reactions that adds to the atmosphere. The only times when people don't really look their best are when you actually see some announcers talking ahead of games or get a close look at some custom avatars. In the case of the avatars, it is understandable.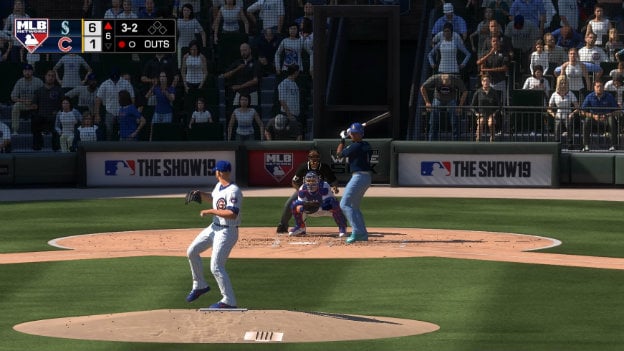 MLB the Show 19 has a lot to offer. If someone has a hankering for a new sports game, it is here with easy to understand controls and tips and enough modes to let you quickly get started. If you know what you're in for with the series, then the new March to October and Moments modes will give you chances to see what sports legends' lives were like or take a specific team to victory over the course of a season. If it is all new, you have plenty of quick play, simulation, and extended modes that will let you prove yourself, live the life of a player, manage a team, create a team, and generally succeed. It's a robust game that will keep people in the game throughout 2019 and beyond.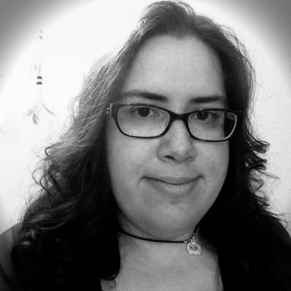 By
Jenni Lada
Site Editor
Date: 03/29/2019
Game Features:


New Game Mode: Moments. Recreate some of the biggest moments in baseball history.

New Game Mode: March to October­. Play the season's most exciting games to take your team to the postseason faster than ever.

We've spent the offseason studying gameplay telemetry and community feedback to drive changes in our hitting engine and defensive AI.