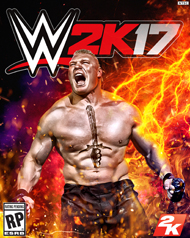 System: PS4, Xbox One, Xbox 360, PS3
System TBA: PC
Dev: Yuke's, Visual Concepts
Pub: 2K Sports
Release: October 11, 2016
Players: 1-6 Players (1-4 local, 2-6 network)
Screen Resolution: 480p-1080p
Blood, Violence, Language, Suggestive Themes
WWE 2K17 Feels a Little More Realistic
by Jenni Lada
Yearly entries in established series usually fall into four categories. You have the installment that shakes things up and makes things much better as a result, as well as the one that experiments and falls flat. These, in turn, lead to the iteration that fixes everything after huge mistakes were made and entry that does its best to make minor improvements while not ruining a good thing. WWE 2K17 falls into that final category. Yuke's and Visual Concepts clearly realize WWE 2K16 did a lot of things right and have taken an "if it ain't broke, don't fix it" approach to this year's game. This means a game with a larger roster and more customization and management options that fine-tunes a number of issues, but doesn't offer any huge alterations to the WWE 2K formula.
First, WWE 2K17 is a rather large game. If you're going to be downloading it to, say, your PlayStation 4, you'll need 58GB free for the game and day one patch. Fortunately, it has a neat feature to keep you occupied while you wait. As it downloads, you can actually play Normal One on One matches with AJ Styles, Brock Lesner, Dean Ambrose, Finn Balor, Kevin Owens, and Roman Reigns. It's a nice feature to help you kill time while you wait, and one I appreciated.
Of course, the game isn't just large in terms of file size. There's a lot to do in WWE 2K17. In addition to the My Career and WWE Universe simulation modes, where you're actually participating as an original wrestler or orchestrating shows, there are tons of standard matchups that let you immediately begin playing the game as characters you've created, unlocked, and (sadly in the case of Shinsuke Nakamura) bought. Including DLC, over 150 characters are available. To compare, last year we had about 120 characters. You can take them through 13 kinds of One on One matches, six sorts of Two on Two matches, seven Triple Threat match types, seven kinds of Fatal Four-Ways, six different Six-Man matches, two types of Handicap matches, two types of Tournaments, and three sorts of Royal Rumbles. This game is extensive, offering all sorts of options.
WWE 2K17's matches are rather similar to the ones found in WWE 2K16, albeit with some minor tweaks. The submission mini-game remains the same, though it now has an alternate option. You still have to manage your stamina and can't go flailing your way through a match. Pinning and kicking out works the same as it did before. Reversals still involve tapping the trigger at the right time, though it felt like the system was a little more forgiving when it came to timing. It feels like the game has been fine-tuned, rather than systems completely overhauled.
Some adjustments, both major and minor, have been made to make things more interesting. Chain-wrestling is further downplayed and only happens if both characters try to grapple at once, as it should be. You can perform a taunt during a match to buff up your character briefly, which makes sense. During multi-character matches, your character rolls out of the ring to recover and has the option of staying down for further recovery or breaking out of it more quickly. You can even fight in a rather small and limited backstage area or the crowd, as well as break in for pre-, mid-, and post-match interruptions, to keep the action going at all times.
Fans of female wrestlers aren't going to be very pleased with WWE 2K17. If you've been following the shows and news, you know that they're no longer called Divas. That distinction is gone, and has been since March when the Women's Championship was established. Yet, the game continues to refer to them as Divas. While that could be hand-waved away as an oversight, even though the game does have the WWE Women's Championship in it, it doesn't explain why MyCareer is still limited to only original male superstars. Considering the Mass Effect-inspired interviews and conversations have been replaced with text-only promos, there's no plausible excuse for locking female characters out of this portion of the game.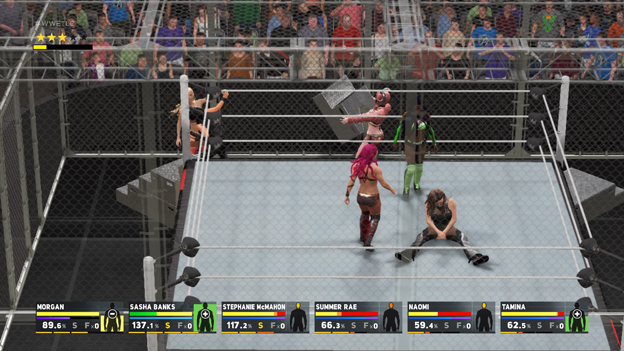 Which is a shame, because MyCareer has experienced some interesting updates in the transition from WWE 2K16 to WWE 2K17. After creating a custom (male) character, you help him earn experience and find a place on the roster. He can work with other wrestlers or develop rivalries with them. This time, your performance during the tutorial could result in you heading to NXT or becoming part of the main roster. You can even team up with Paul Heyman to receive specific challenges. It's possible to earn extra money from merchandise deals. Also, if you're really good at what you do, you can have more than one championship belt.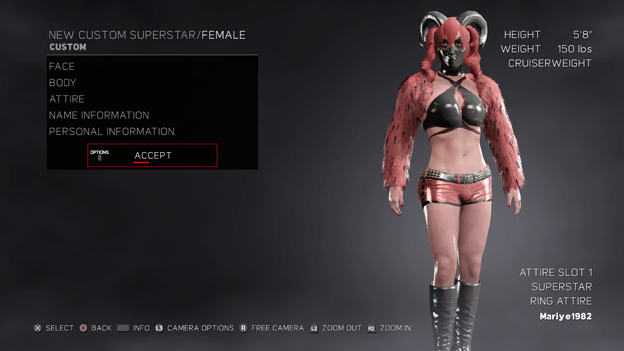 Unfortunately, the new promo system, used in both My Career and WWE Universe, feels a bit dated and stale. Instead of allowing you to actually interact in interviews, as in WWE 2K16, WWE 2K17 offers a text-based mini-game. You will have four dialogue options to choose from, and go on rants either alone or with another character. The crowd that night, your reputation, and the one of six types of promos you performed determines the impact on the character and story. It's… okay? It works well enough. But, it's an unvoiced segment in a 2016 video game where last year we actually had voice acting and dialogue wheels. It's a step back.