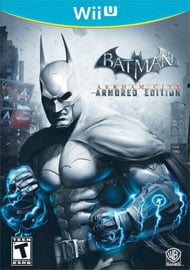 System: Wii U
Dev: Rocksteady
Pub: Warner Bros. Interactive
Release: TBA
Players: 1
Screen Resolution: 480p-1080p
Nintendo Finally Gets A Piece Of Arkham
by Josh Wirtanen
Nintendo bragged about their third-party support a year ago when they first announced the Wii U. After hearing hardly a peep about this for a full year, Nintendo finally started doing some name-dropping at their 2012 pre-E3 press conference. One of the most surprising mentions was an enhanced version of Rocksteady's Arkham City. I honestly did not see that one coming. A playable demo was available on the E3 show floor, and you can bet we here at Cheat Code Central got our grubby little hands on it.
Now, I don't think the segment I played was a part of the actual game (it certainly wasn't in the original version Arkham City) but rather a series of puzzle rooms specifically designed for E3 in order to show off the Wii U's GamePad implementation.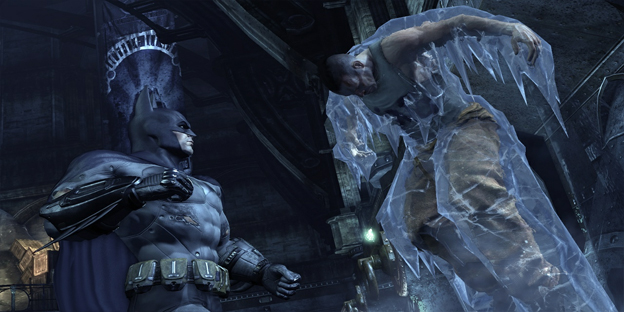 First of all, I was tasked with fist-fighting a roomful of goons, and the combat on the Wii U GamePad's traditional face buttons felt pretty much exactly like what Arkham veterans will remember. There is an attack button and a counter button, and enemies get warning bolts over their heads when they're about to perform a counterable move.
What's different, though, is the addition of B.A.T. mode. As you take down enemies, there is a meter on the screen that fills. Once it's completely full, you can activate B.A.T. mode, which releases a shockwave to knock down any enemies that are too close, then makes Batman temporarily more powerful. It's a neat addition, but one that I'm guessing is going to make the game a whole lot easier unless there are some serious tweaks in order to counter it.
Batman's gauntlet has a high-tech computer interface on it now, and the Wii U's touchscreen essentially shows you exactly what Batman would be seeing. When you touch the screen, you can see Batman looking down and touching the touchscreen on his gauntlet.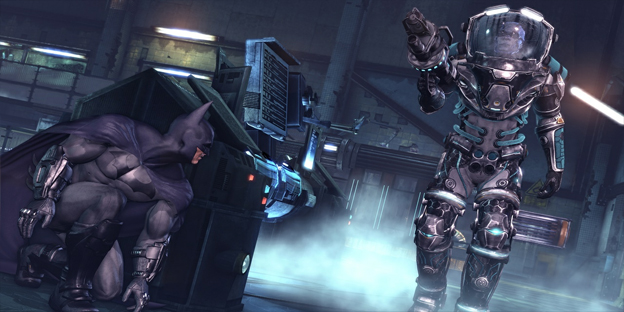 Using this interface, swapping out various gadgets is super easy. You'll see a list of your gadgets on the edge of the screen, and you can map them to your D-pad by touching and sliding them on top of the inputs you'd like to correspond with that particular gadget. It's pretty slick, and it's vastly superior to the Xbox 360 and PS3 versions' D-pad gadget selection.
Another cool feature that comes as a result of the Wii U's touchscreen is that explosive gel becomes more functional. Remember how you could lay down gel in different locations, but you had to detonate all the active gel at once? Now you can tap the areas where you placed gel to make each one explode individually. It's a tiny improvement, but one that has enormous potential for new strategies. For example, now you can lead enemies into a location with one explosion, while a second, delayed explosion will stun them.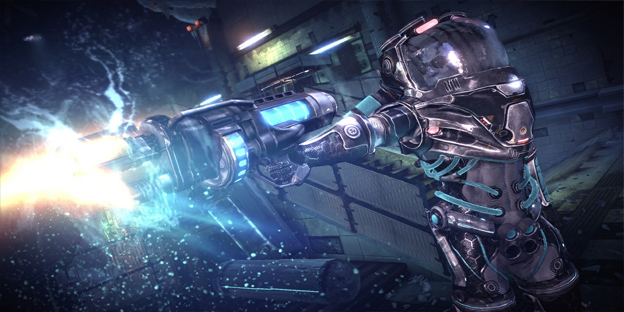 Of course, it wouldn't be an Arkham game without Detective Mode, and even that's been overhauled here. Now you can scan things with far more accuracy by moving the GamePad around. There are areas that can be seen while in Detective Mode that are marked with grids, signifying that they can be inspected more closely. When you scan, say, a trail of blood, you get to actually aim the GamePad at it and see it on the touchscreen. It brings you one tiny step closer to actually being Batman.
The GamePad's gyroscope can also be used to control your remote-controlled batarangs. The announcement trailer made it seem like this should increase your precision, but personally, I felt like it only made things more difficult. In fact, the booth rep finished the batarang puzzle room for me after becoming visibly frustrated with my performance.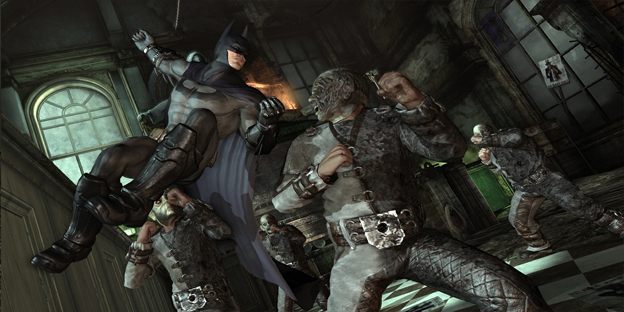 Now, the one question on everybody's mind at this point is what exactly is included in the Armored Edition. Well, according to my incredibly impatient booth rep friend, every piece of DLC is here and accounted for. This means not only will Wii U owners will get the entire Game of the Year Edition, but they also won't have any online pass to deal with before unlocking the Catwoman content.
Arkham City will be a must-have title for Wii U owners who, for whatever reason, passed this one by when it first launched. For those who have already played through the game, especially those with the Game of the Year Edition, I'm not sure the new controls will make this worth a re-purchase. They're certainly well implemented for the most part (I'm still reserving my judgment on the batarang controls), but they don't add enough to make this feel like a completely fresh experience.
Either way, it's going to be great to finally see the Arkham series on a Nintendo console.
By
Josh Wirtanen
Contributing Writer
Date: June 18, 2012
Game Features:


Contains all of the content from Batman: Arkham City, including all available downloadable content, and introduces Battle Armored Tech (B.A.T.) Mode and the new Armored Suits for both Batman and Catwoman.

Harnesses the power of the Wii U system and the Wii U GamePad with features that allow fans to further immerse themselves in the role of Batman like never before.

The Wii U GamePad provides instant access to the wrist-mounted Batcomputer throughout the game, allowing players to use the touch screen to seamlessly select objectives, choose their gadget, track forensic evidence, upgrade their gear, detonate explosive gel, and more, all while remaining immersed in the action.

All gadgets have been reimagined to utilize the power of the GamePad, offering an unprecedented level of accuracy when using the Batarang and scanning for clues.