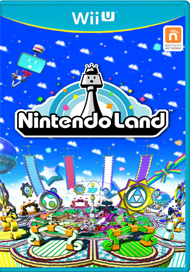 System: Wii U
Dev: Nintendo
Pub: Nintendo
Release: November 18, 2012
Players: 1-5
Screen Resolution: 480p-1080p
More Than Meets The Eye
by Josh Wirtanen
One of the most enigmatic first-party titles of the Wii U's launch lineup is Nintendo Land. But after a brief play session with the game, I have a feeling it's actually going to do a lot more than what fans are expecting. In fact, you might want to keep your eye on this one after all.
At first, fans were disappointed in what, from the initial announcement, seemed like just another minigame compilation. And Heaven knows, you can't really throw a Wiimote without hitting a poorly made collection of minigames for the Wii. But the word "minigame" doesn't really do justice to the twelve experiences included on this disc. You see, these are all actual full games, or "attractions," complete with multiple stages, secrets, boss fights, and more. Well, I wouldn't say each one is a full-fledged triple-A title on its own, but each tries to cram in enough content to shake off the "minigame" stigma.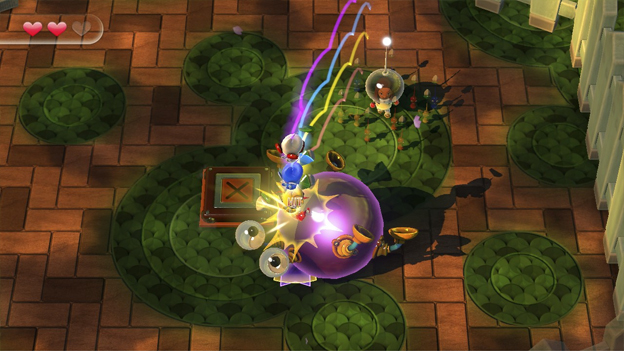 So what are these attractions? Well, the one getting the most talk is Luigi's Ghost Mansion, which pits up to four players with flashlights against a ghost. The thing is, this ghost is controlled by the person with the GamePad, and that person can see the other players while the ghost remains invisible to everyone else. While I did take Luigi's Ghost Mansion for a spin, so much has been written about it already that I'll spare you the details. (But if you want to know more about that, check out my coworker Angelo's E3 preview.)
I actually started out with something a bit further off the beaten path, an attraction called Donkey Kong's Crash Course. This is actually a completely single-player experience that has you tilt the GamePad to guide a fragile cart through a 2D obstacle course and collect bananas along the way. (The GamePad will display a zoomed-in version of the course, while the TV screen will display a much more panned-out viewpoint.) The cart can be destroyed by hitting a wall too hard, getting stuck on a rail, or falling too far. Also, there are environmental objects like bridges and elevators that require the shoulder buttons to manipulate.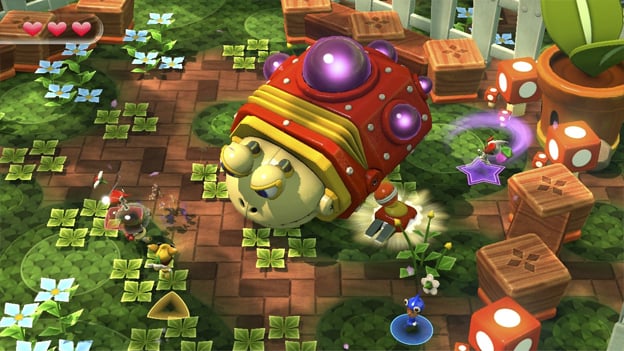 This was all actually far more challenging than it sounds, and I wasn't able to get very far in the stage I played. The rep promised that there would be multiple stages, though he wasn't at liberty to give me an exact number. He did warn me, though, that the later ones would be insanely difficult. I'm inclined to believe him on that.
Next up was Takamaru's Ninja Castle. This is actually based on the shuriken tech demo you may remember from E3 2011, only it's been given a vast overhaul. In this game, you hold the GamePad flat and flick your fingers on the touchscreen to throw shurikens at a gang of ninja who vaguely remind me of South Park characters. At first, these cute little ninja just pop out from behind things, but eventually they start throwing shurikens, charging the screen with katana, and even chucking explosives. There's even a boss fight at one point.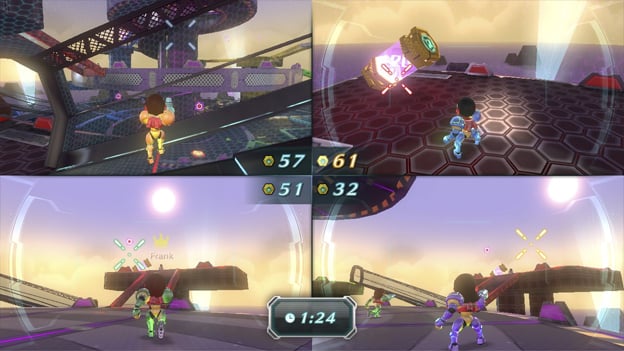 I have to admit that when I saw the initial tech demo, I was impressed by the tech but skeptical that it could make a worthwhile game in and of itself. In its current state, though, I can definitely see how a person could get some decent mileage out of Takamaru's Ninja Castle.