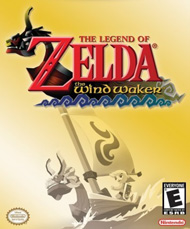 System: Wii U
Dev: Nintendo
Pub: Nintendo
Release: September 20, 2013
Players: 1
Screen Resolution: 480p-1080p
Animated Blood, Fantasy Violence
The fact is that The Legend of Zelda: The Wind Waker HD is a very streamlined game: There's the impressive use of the Wii U GamePad to quickly sort through Link's inventory, check maps, and assign items to buttons; the optional, faster means of sailing; and select, important items tied to d-pad directions. It all just works. In fact, the GamePad is perfectly suited to the experience, especially when it comes to using gyroscopic controls to shoot arrows with the Hero's Bow. It all works exceptionally well, and it feels like The Wind Waker was always meant to be paired with it.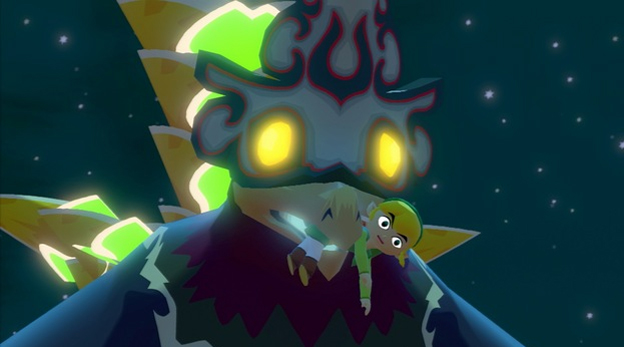 Lamentably, I was unable to test one of The Legend of Zelda: The Wind Waker HD's new features. Fortunately, it was one that isn't crucial to gameplay. Upon rescuing the infamous Tingle from Windfall Island's jail, he bequeaths Tingle Bottles upon the player. These can be sent out along the waves of any beach, taking a random message to another The Legend of Zelda: The Wind Waker HD player. Pictobox images can be included, and if someone is online, a Tingle Bottle might appear on his or her shoreline. I received an error message when I attempted to send one and never came across any bottles during my wanderings. I'm sure this will be remedied once the game actually launches, but I like the notion of it and feel it will add a friendly, social element to an otherwise solitary adventure.
Of course, I'm sure I'm probably preaching to the choir. Many of you have probably already experienced The Legend of Zelda: The Wind Waker before and have gone through what I've been experiencing. It's a touching and awe-inspiring journey. While playing, I marveled at things I normally don't pay attention to in games, such as the way light and shadows played off of Link and his enemies in battles, or the way the wind made little things, such as flags or windmills, come to life. (I also may have been a little too amused at Medli's reactions to being thrown against the wind.) But for those who, like me, are new to The Wind Waker, go into The Legend of Zelda: The Wind Waker HD knowing that this is an example of a truly great game as well as one of Link's finest adventures.
By
Jenni Lada
Contributing Writer
Date: September 18, 2013
Game Features:


The Legend of Zelda: The Wind Waker HD features 1080p visuals that will immerse players in the game like never before.

With the Wii U GamePad controller, it's easy to manage your inventory and view maps.

Players will enjoy cruising the open sea with a new Swift Sail, bringing them to their next destination and action-packed adventure that much faster.

Once players receive the "Tingle Bottle" item, they can connect with others by posting comments to Miiverse. Through this new feature, comments or screen shots posted on Miiverse will wash up on the shores of other players' games. It's like finding a message in a bottle.

Players can also take and store more pictures with an improved Pictograph and then post them on Miiverse.

If the television is already in use, this game can been played off-TV on the Wii U GamePad.