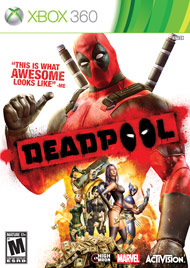 System: Xbox 360, PS3
Dev: High Moon Studios
Pub: Activision
Release: June 25, 2013
Players: 1
Screen Resolution: 480p-1080p
Blood and Gore, Intense Violence, Mature Humor, Sexual Content, Strong Language
Getting to Know Deadpool
by Jenni Lada
Ah, Deadpool. Marvel's iconic "Merc with a Mouth" has had his share of fame. Yet, until now, he's pretty much had to share the spotlight. His character was butchered in X-Men Origins: Wolverine. He was only a small part of the Marvel vs. Capcom 3 cast. He deserves more!
Deadpool knows he deserves more, and he isn't going to just wait for his opportunity to happen. Deadpool's game begins when the mercenary plants bombs in High Moon Studios' offices. When they think he's bluffing, he pushes the trigger. Remember those stories about layoffs? Conspiracy theorists may want to start thinking it was just to cover up Deadpool's "negotiation" tactics.
Of course, High Moon Studios caved, and the result is an adventure of Deadpool's very own. The all-star chops are there to give this game the potential to be something special. For starters, Daniel Way penned the story. He is responsible for a number of issues of the Deadpool comic, not to mention some Wolverine, Ghost Rider, and Punisher comics. He's a veteran who knows what he's doing and knows the character. Nolan North, voice actor for Deadpool in Marvel vs. Capcom 3, Marvel Heroes, and Spider-Man: Shattered Dimensions reprises his role as the character. If all goes well, it should slip into the canon of Marvel videogames quite smoothly. Or, as smoothly as any comic-inspired videogame can.
After all, High Moon Studios and Way even made sure the voices were right. Yes, Deadpool still has those voices in his head. Aside from normal Deadpool, who is about as far from normal as you can get, there's also immature!Deadpool and soldier!Deadpool. Think of the former as a horny teenager with no impulse control and the later as the straight man for the others' jokes and the last remnants of Deadpool's professionalism. When you put the three together, they form a holy trinity of hilarity.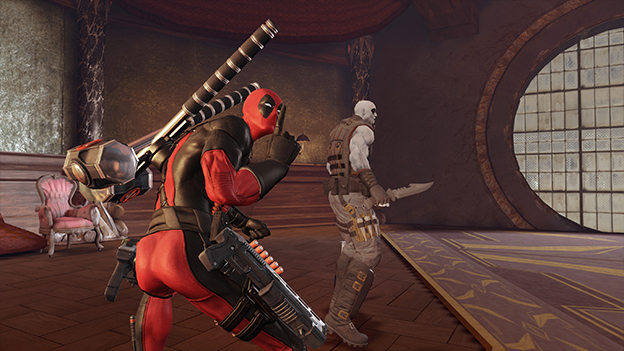 It isn't just the script that lends Deadpool authenticity. The gameplay does as well. To start, Deadpool is indestructible. It's how he's written, and that carries over to his game. He doesn't "die," he blacks out and reappears at the beginning of an area, chastising the player for making him suck. Gameplay is frantic, offering swords, guns, and plenty of ammunition to chain together massive combos. The view does swap once the guns come out though, switching from a standard third-person, action game when wielding swords to a third-person, over-the-shoulder shooter. Deadpool even tackles missions in his trademark fashion. One area has a bouncy castle, inflated via a QTE, which is a surprise Chekhov's gun.
Even though there will be endless grunts, mini-bosses, and bosses galore, they're something to seek out rather than gloss over. Deadpool points grant him improved weapons and abilities. Experience points are so last year. The more enemies he takes out, the more points he gets. The more he earns, the better he gets. Impossible to imagine, I know, but it's true.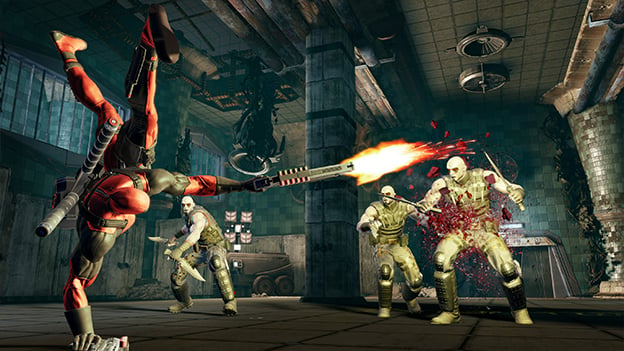 Since Deadpool's a pretty gracious guy, he isn't afraid to share the spotlight. So share it he does. The game features a couple of star-studded cameos. I mean, he hasn't got an inferiority complex - let the other, lesser heroes come along! These people probably had to beg, but he agreed to put in a good word for them with High Moon Studios.
Unfortunately, Bea Arthur won't be making an appearance. Tears.
So anyways, cameos. Famous X-related people will all be showing up. Cable and Domino, formerly of X-Force, get a few moments in the sun. So does Psylocke of the X-Men. Not to mention Mister Sinister and a few of his Marauders will be showing up to cause trouble. More trouble than Deadpool? Not likely! Despite the cameos, this game never loses its focus on the Merc with the Mouth.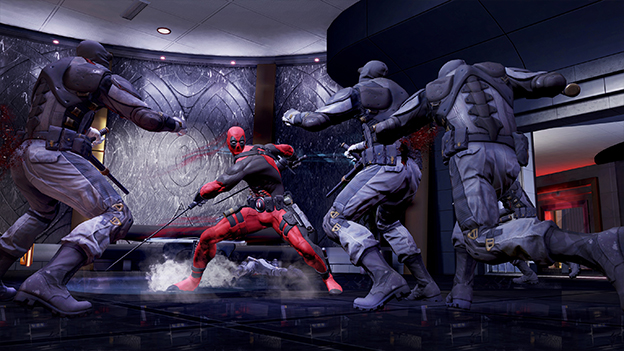 Let me put it this way: If you're buying a ticket for the Deadpool train, you're hopping on board for the character. Characterization is where this game will shine. The best moments will be the ones where the audience buys in to Deadpool's unique perspective. Deadpool will make his mark on the video game world on June 25, 2013, and his adoring fans can see what it's like to walk in his boots themselves.
By
Jenni Lada
Contributing Writer
Date: May 16, 2013
Game Features:


Let's Get Some Action: I made sure to capture all my good sides, so I made my game a third-person, action-shooter. (Yep, you get to look at my heinie.)

X-Men Groupies: Keep a look out cuz some of my X-Men pals (Whoa, What Pals?!) are making an appearance.

Insane Combat: I'm really good at killing, so I made it a blast stringing together combos and totally eviscerating my enemies. (Ev-is-cer-a-ting!)

Weapons Galore: I brought my skills and a buttload of my favorite things. Katanas (check), guns (bang!), explosives (boom), duct tape (quack), and of course, yours truly? ME! (Checkmate!)