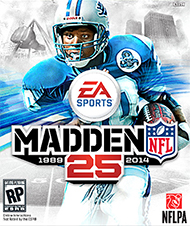 System: Xbox 360*, PS3
Dev: EA Tiburon
Pub: EA Sports
Release: August 27, 2013
Players: 1-4/Online
Screen Resolution: 480p-1080p
What's most cool about Connected Franchise is the ability to connect--Oh, I see what you did there--all of these modes together. Coaches can coach teams with custom players. Owners can hire and fire custom coaches. Everything in your fantasy world can be customized specifically to your liking.
Actually, it doesn't even have to be you who is doing the customization. Madden 25 introduces a brand-new sharing system that vastly streamlines the tedious method of importing and exporting your custom characters and franchises to a USB stick. Instead, you can simply upload your creations to the Internet and download other players' creations whenever you like. The result is a massive online community filled with user-generated content that will keep you busy for ages, far after you are done with everything EA programmed in. There is also a rating system built right in as well as a featured content area that will showcase some of the best pieces of user-generated content. Someone out there is going to make the holy grail of plays that gets through every type of defense, and you'll be able to download it at the push of a button.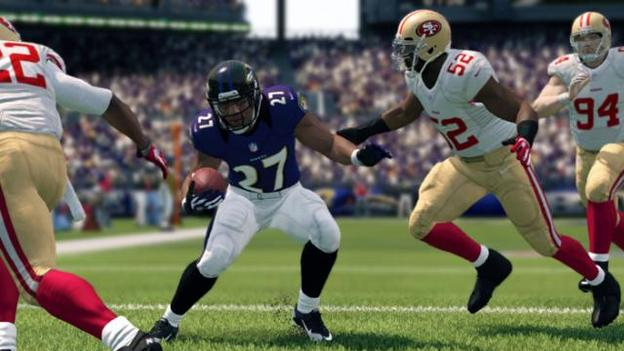 There's so much more that Madden 25 has to offer. You can play in highlight moments of games throughout NFL history, or you can even play the highlights of games as recent as those that take place a few weeks ago. You can customize your playbook to your liking, creating the weirdest and wildest plays that few would ever expect. You can redesign team uniforms, helmets, logos, and even rename them. It's hard to think of a feature that Madden 25 doesn't have.
It's also worth it to comment on Madden 25's presentation, which is… acceptable. To be honest, graphical improvements aren't very noticeable. The audio improvements, on the other hand, are impressive. The announcers are so much better this time around. I cracked up when they would go on long tirades about how horrible the Jets 2012 season was whenever the digital Jets team made the smallest screw up. It feels natural, but also a bit like the game is rubbing it in for humor value, which is a blast.
Madden 25 is a brilliant addition to the Madden franchise. With its user generated-content system, its multiple single-player modes, and its new running mechanics, the replay value is honestly off the charts. It's almost a shame that the title will become obsolete in another year because I could see this one Madden title support the entire Madden franchise for the rest of the next gaming generation. All you would need is a couple patches here and there, and the game would carry itself for years on its user-generated content alone.
By
Angelo M. D'Argenio
Contributing Writer
Date: August 23, 2013
Game Features:


Run Free -- Unlock the power, precision, and creativity of the NFL ball carrier. Whether you're a slashing running back, dual-threat QB, or ball-hawking safety, unleash 30 new moves and string together devastating combos with the all-new precision modifier

Infinity Engine 2 -- Brings both a more polished physics simulation and introduces all-new Force Impact System. Power moves including Hit Stick, Truck, dive tackle, and more have been completely redesigned to harness full potential of Infinity Engine 2, giving more control over the outcome of a play than ever before

Connected Franchise -- Be a player. Be a coach. Be an owner. Cement your legacy as one of the all-time great NFL players or coaches in the new and improved Connected Franchise mode. Become the ultimate sports tycoon as you take the reins of your favorite team to manage personnel, set prices, build the next cutting-edge stadium, and more in the all-new Owner mode

Madden Share -- Best content from around the Madden NFL universe right at your fingertips