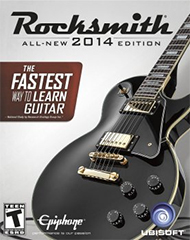 System: PS3*, Xbox 360, PC
Dev: Ubisoft
Pub: Ubisoft
Release: October 22, 2013
Players: 1
Screen Resolution: 480p-1080p
Mild Fantasy Violence, Mild Lyrics
While the plethora of songs available this time around are more diverse, you will find yourself really challenged to not go diving in with songs you want to play. Again, this is not Guitar Hero, Rock Band, or any of those clones. This is designed to teach you every step of the way, including the joys and pains of tuning your guitar. However, it is a needed evil to teach, considering all of the songs on Rocksmith 2014 are not played in the same key. Songs such as "Paint it Black" and "Stone" both require you to adjust the tuning before playing the song. As annoying as this will come across at first, this is a required necessity all musicians should be able to do on the fly.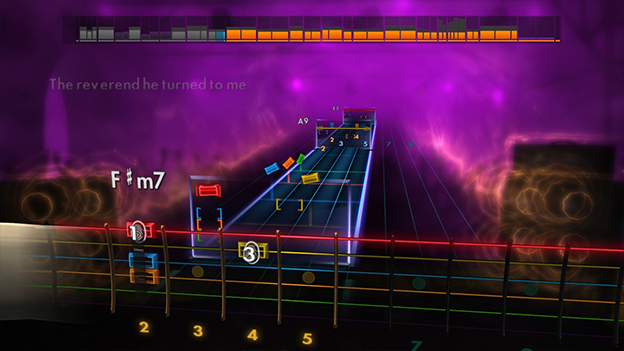 In addition to the aforementioned songs, players will also be able to learn how to play titles such as "Last Dance with Mary Jane" from Tom Petty and the Heartbreakers, "Walk this Way" from Aerosmith, "Bat Country" from Avenged Sevenfold, and "Heart Shaped Box" from Nirvana. There are over 50 songs to learn and examine, all of them the "real" versions. While this is not something we had to face with later versions of the music game, early contenders had covered versions of the songs, and some detracted from the experience. It's a nice extra to have the true versions of the songs, especially since in most cases when learning, you teach yourself from whichever version you can find to learn from.
Rocksmith 2014 is not a game. It is a tool for learning, with benefits. You can enjoy the experience you get with the game at face value. However, it is not designed this way. It says on a piece of paper in the box that you can learn to play the guitar in 60 days by taking the 60-day challenge. While I am not going to say this is 100% accurate, I can honestly claim that if you have the drive to learn, then Rocksmith will definitely be the best tutor you'll ever pay for.
By
Matt Walker
Editor-in-Chief
Date: October 22, 2013
Game Features:


Learn how to play the guitar in 60 days.

Innovative experience with several advancements from the previous entry.

Over 50 songs to learn.

Session mode allows you to play with a dynamic virtual band.