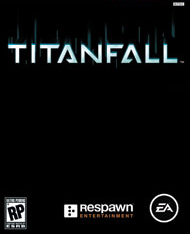 System: Xbox 360, Xbox One, PC
Dev: Respawn Entertainment
Pub: EA
Release: 2014
Players: 1 (2+ Online)
Screen Resolution: 480p-1080p
Dawn of the Titans
by Jake Valentine
Remember the calls for the boycott of Call of Duty: Modern Warfare 2 from PC gamers? They weren't happy with the removal of dedicated servers. As expected with most boycotts, it wasn't much of a success. There's an iconic image available that depicts many members of a Steam group that promoted the boycott playing Modern Warfare 2. I, however, did take part in a boycott of the Call of Duty series. My reasoning doesn't have to do with the dedicated servers, but instead the dismissal of former Infinity Ward leads Jason West and Vince Zampella. Following their March 2010 firing, I stopped playing Modern Warfare 2. With the exception of a relapse to impress a girl, I haven't played a Call of Duty title since.
A month after their firing, West and Zampella founded Respawn Entertainment. A total of 38 of the 46 former Infinity Ward employees who resigned after the West and Zampella firings were brought on board. I've been eagerly waiting to see what they've been working on. E3 2013 ended that wait with the reveal of Titanfall, a sci-fi FPS for Xbox One, Xbox 360, and PC. Let me tell you, was it ever worth the wait.
The game is, as is virtually every shooter, a multiplayer affair with a plot weaved-in somewhere. Players will control pilots as they fight alongside their team for objectives. But they won't be jumping into the fight alone; they'll be able to summon Titans (large and agile mechs) to the battle. Our demonstration took place at about 50% on foot and 50% in a Titan, meaning we got to see the two ways the game would be played. While the jury is still out regarding balance, Titans, in the demo, didn't appear to be completely overpowered; they were quite susceptible to pilot attacks on their "brain," and they were taken down with careful teamwork.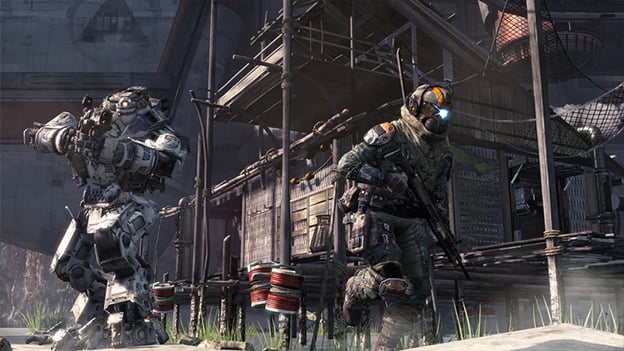 There are three goals in Titanfall: player mobility, survivability, and the merging of cinematic design with fast-paced action. Let's talk about those three goals, starting with mobility. Imagine Call of Duty with jetpacks. Boom. That's how Titanfall looked. Surprisingly, things didn't seem too fast or sped up. Instead, the gameplay focused on precise movement and jumping. Equally impressive is the fact that the entire arena was available. Nothing was off limits: Want to run through that building and make your way to the top? Go right ahead. Use your jetpack to gain an aerial advantage and walk alongside that rumbled wall? Not a problem. Based on this first impression, there's going to be a mix of speed and tactical decision-making that should translate into intense action.
Next, let's talk about survivability--a key aspect in the Titanfall experience. One of the most frustrating aspects of any FPS multiplayer match is the constant struggle with death. Ever jump into a match with people far better than you? It involves lots of dying, very little living, and even less fun. It's nice to see a developer attempt to fix this issue, and I'm pretty eager to see the results when I eventually get my impatient hands on the game.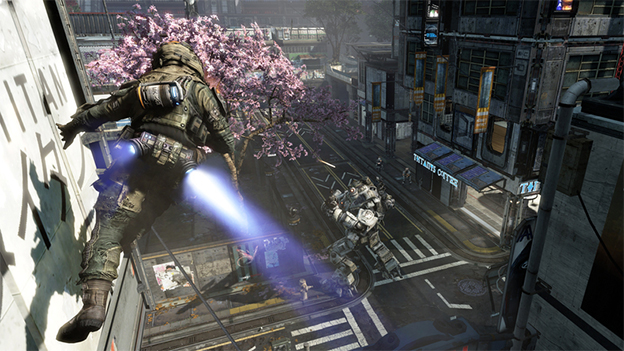 Finally, there's the combination of cinematic design and fast-paced action. While the action was there, the cinematic design was both subtle and standard. Aside from the cutscenes that played while the game loaded the map and audio dialogue that aided the game, there wasn't anything too revolutionary. Sure, it's nice when you're near a checkpoint and some guy with a microphone goes, "Hey, you're near Charlie. We need that fuel, so go get it," but that's been done before. Personally, I'm looking forward to see how Respawn is able to merge a story within the multiplayer-centric game design. Seeing as how Troy Baker narrates the game's debut trailer, there's reason to be excited.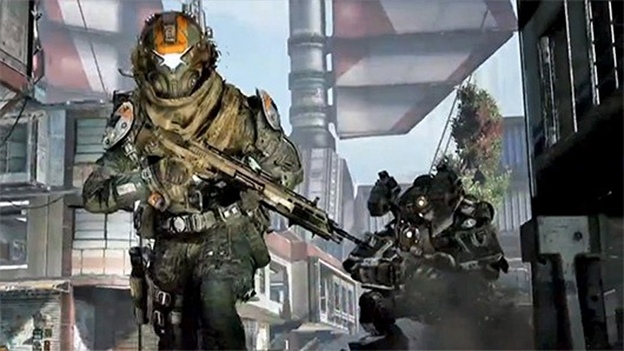 As with all eyes-on previews, Titanfall looked great, but my opinion comes with the caveat that these impressions are based on seeing the game, not playing it. There's a lot I still want to see, but first impressions don't get much better than this.
By
Jake Valentine
Contributing Writer
Date: July 8, 2013
Game Features:


Fast-Paced Future Warfare - In Titanfall, the advanced warfare of tomorrow gives you the freedom to fight your way--as both elite assault Pilots and agile, heavily armored, 24' tall Titans. Titanfall rethinks fundamental combat and movement, giving players the ability to change tactics on the fly--attacking or escaping depending on the situation.

The Future of Online Multiplayer Action - The game is entirely multiplayer, in a new experience that combines fast-paced online action with the heroic set-piece moments traditionally found in campaign mode. The intersection of the two is a big part of what gives Titanfall its iconic identity.

The Visionaries that Defined Gaming for a Generation Are Back! - Founded in 2010, Respawn Entertainment was formed by Vince Zampella and Jason West, former co-founders of Infinity Ward and two of the co-creators of the multi-billion dollar franchise Call of Duty. They are building on their pedigree and taking a new approach to game design and creating an all new universe with Titanfall.